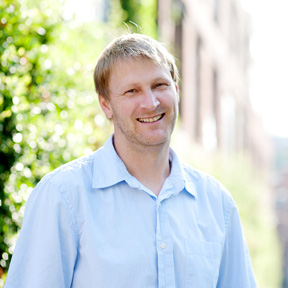 Jeremy was destined to be in the real estate business; he worked as a builder for his father from the time he could lift a hammer! He's been a broker with the company since 2006 because he truly believes in full buyer representation.
"I strongly believe in the philosophy of The Buyer's Agent of Asheville, which is to do everything we can to save our clients time and money," he said.
Jeremy moved to Asheville from Salt Lake City in 1996 to attend Mars Hill College on a soccer scholarship. He never left after graduation, marrying his wife Jennifer and now raising their son and enjoying their boxer Sophie.
Jeremy continues his soccer involvement, playing in the Adult league and coaching competitive soccer at the Highland Football Club. He has helped over 75 players obtain their goal to play college soccer. Mars Hill College recognized his contributions to the game recently by inducting him into their Athletic Hall of Fame in 2011.
Jeremy feels lucky to live in Asheville, noting that the city offers great food, diverse culture, great outdoors, and fantastic weather. He loves taking his wife and son to Graveyard Fields because it's a very easy place to hike and play. He also spends a lot of time at John B Lewis Soccer Complex playing soccer with his son. The family enjoys the many festivals and events at local parks, especially going to Pack Square so his son can play in the fountains. They also love attending Asheville Tourist baseball games. For a special night out, he and his wife enjoy the Corner Kitchen restaurant located in Biltmore Village, and a walk around the village after dinner.
Jeremy says because he's lived in downtown Asheville, West Asheville, and surrounding communities he has a unique perspective and can assist clients in matching their wish list to the area that meets their needs. His building industry expertise also helps him counsel clients.
"I focus on giving my clients an educational experience by working with me and the Buyer's Agent. I truly know the history of the area, activities, and most importantly the home buying process."
What Jeremy's Clients Say
It is our immense pleasure to recommend Jeremy Jordan as a home buyers agent for any individual or family searching for the ideal home for their unique situation. We relocated to Asheville from Alaska we were living with my parents, so we needed a place to call home fast. We were in the search for single family house inside the Asheville City School District with a low price point.  Jeremy did not shy away from the challenge and stayed with us through decision changes, bank issues, our two young children and weird work schedules.
Jeremy worked with us for 11 months and showed us everything we wanted to see. He knows the Asheville area like the back of his hand. There is nothing that escapes his attention when it comes to property for sale in this area. At each house he gave us great unbiased information. He waited patiently while we looked throughout the house and answered all our questions. He was honest about houses that were bad options.
We found him to be a highly attentive agent, almost as if we were his only customers, although we know that was not the case. He returned all phone calls and emails the same day. We never felt neglected or unimportant. He is also highly personable with an engaging personality.
We are pleased to recommend Jeremy Jordan to anyone looking to buy a home. He is hands down the best in the business. In our opinion he is the true definition of a home buyer, he only had our best interests at heart at all times.
As a first-time home buyer I struggled with finding an agent who would work with me, and the want/needs that I had. After an unsuccessful search two years ago, where I did most of the looking and making appointments – with the hope my agent would actually show up, I put my search on hold. I started looking again in July of 2011 and found Jeremy Jordan with The Buyer's Agent of Asheville. Jeremy made the process very easy for me. He always worked with my schedule, was dependable, and always provided his honest opinion. He understood what I was looking for and never showed me homes that were out of my price range or tried to "sell" me on a property that didn't suit my needs. After the inspection, he followed the process carefully to make sure everything was going smoothly. He went above and beyond my expectations at every turn.
The entire process – from my initial contact with Jeremy to the closing – was about as stress-free as a home purchase can be. There is true value in choosing an agent who is only on the buyer's side, and I highly recommend Jeremy Jordan and The Buyer's Agent of Asheville's services
Jeremy is knowledgeable, professional, and possesses sharp real estate instinct. We were first time homebuyers with no idea how to move forward. With Jeremy's patient guidance, we felt like we were getting an education, as well as a great buying experience. And he's still providing great service two years after the sale! We're 100% satisfied and recommend him to all our friends.