Our Focus is You
Discover how easy home buying can be with our team. Unlike a traditional real estate firm, The Buyer's Agent does not represent sellers, so there are never conflicts of interest. Our only focus is finding the perfect home for you, while protecting and promoting your best interests. The Buyer's Agent thrives on finding your perfect address and helping you through that entire process.
At The Buyer's Agent, we always have your financial interest at heart, and we have a reputation for saving home buyers just like you thousands of dollars throughout the buying process. Representing only the buyer, we can take you behind the scenes to protect your best interest in the real estate transaction. Between the flexibility and the shared detailed information that a traditional realtor can't provide, you get access to accurate information like:
Neighborhood Values
Property and Location Drawbacks
Personal circumstances of the seller that may influence the purchase
Property tax and area school information
Do You Know the Difference?
What's the difference between a traditional real estate agency and The Buyer's Agent? All seller agents work solely for the seller's interests. Dual agents represent sellers and buyers at the same time. The Buyer's Agent represents only buyers, protecting and promoting your best interests.
Seller's Agent
Show their listings to any reasonable prospect in

an attempt 

to find

a

buyer.

Keep

information confidential

if it 

would

harm the 

seller's

negotiation position.
Try to

get

the

seller 

the

best price and terms.
Advocate

for the 

seller,

always.
The Buyer's Agent
Only show homes that meet the expressed needs of the buyer.
Work to find details and information to give buyers

the 

advantage

while 

negotiating price.
Negotiate tirelessly to ensure buyers get their home

at 

the best available price and on favorable terms.
Advocate for the buyer, 

always.
Do you want a company that will only give you part of their time, skill, and energy? Or, one that's committed to giving you all of it?
How top local firms spend their time, skill, and energy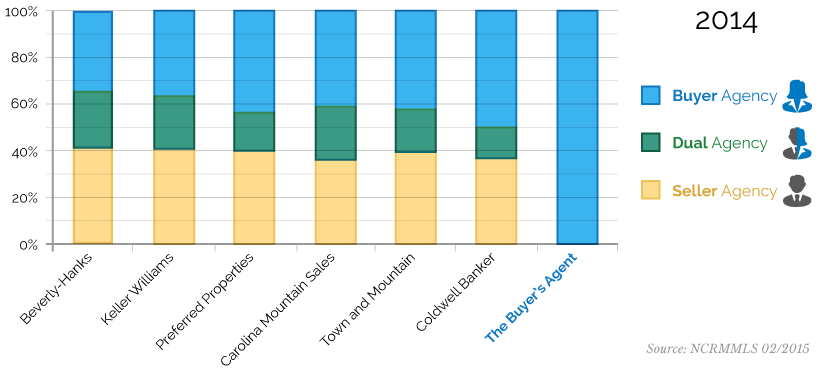 The Buyer's Agent of Asheville is the only area brokerage that never practices seller agency or dual agency.
We focus on what's really important: YOUR BEST INTERESTS!!
Don't Take Our Word for It
Melinda stands out to us because she met our needs in a very professional manner. She treated her work with us as a job that she took seriously and also enjoyed. She did what she said she would do and worked to find us a home within the geographical area...
This is the second time that we have worked with Judy on purchasing a property. She does a great job helping you to find properties.
Most people don't purchase a lot of homes in their lifetime. It's reassuring to have a buyer's agent on your side to be your guide throughout the process. Claire Bartholic helped me through my relocation, from learning about the Asheville area before I was ready to move, to closing on...