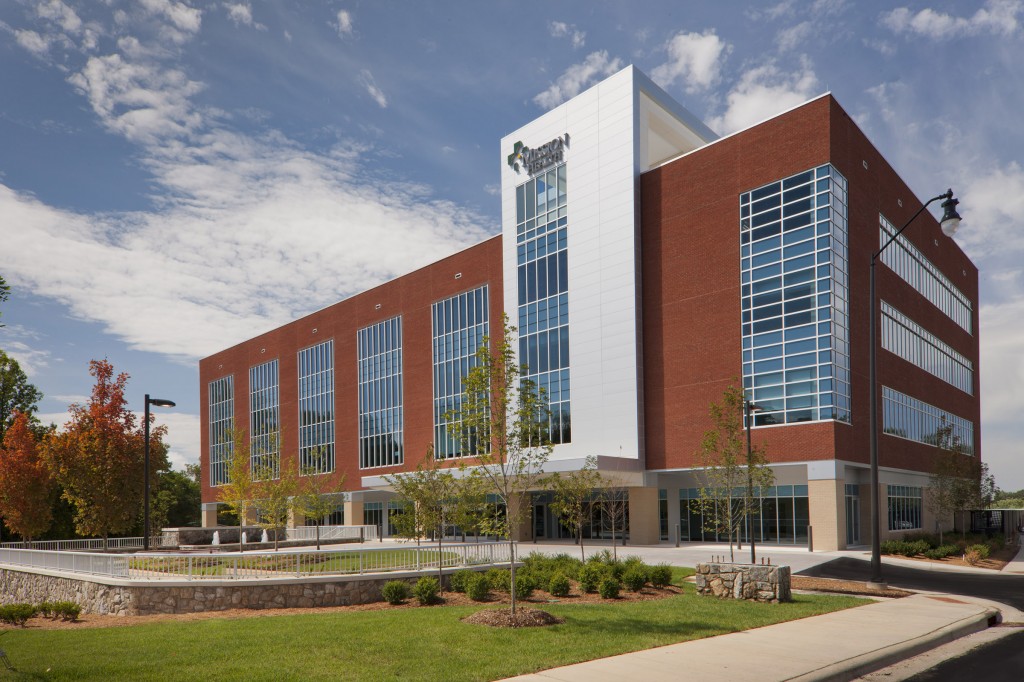 Asheville, NC has some of the best Doctors, Surgeons, and health care facilities in the Country. Mission Hospital, VA Medical Health Care, Haywood Region Medical Health Care Center, Park Ridge Health Care Hospital, Thomas Rehabilitaion Health Service, Pardee Health Care Hospital, and more.  Asheville is a regional medical center, offering the highest quality of patient care.
Mission Hospital – Top 15 Highest Performing Hospitals in the U.S.
509 Biltmore Ave.
Asheville, NC 28801
828-213-1111
Key Facts
Licensed for more than 800 beds and bassinets.

Over 5,600 employees.

Medical staff includes more than 600 physicians, who represent virtually every specialty and sub-specialty. 

Level II trauma center. 

Five adult intensive care units (Neurotrauma ICU, Coronary ICU, Cardiovascular ICU, and two Medical-Surgical ICUs).

Two pediatric intensive care units (Neonatal ICU, Pediatric ICU).

90-acre hilltop campus. 

Freestanding outpatient surgery center developed in a joint venture with staff physicians. 

JCAHO accredited.

Mission has relationships with a variety of other healthcare organizations, including Spruce Pine Community Hospital, The McDowell Hospital, Advance Home Care,
Awards & Recognition
At Mission, we are proud of the role we play in making Asheville the wonderful place it is. We have been repeatedly recognized for clinical and organizational excellence, including the following commendations:
Mission was selected as one of America's "Top 100" hospitals in 2004 and 2005 by Solucient, which conducted an independent analysis of publicly available data from more than 6,000 acute care general hospitals to assess quality, operational efficiency, financial performance and adaptation to change.

In 2005, 2004, 2003, 2002 and 2000, our Owen Heart Center was named as one of the top 100 cardiovascular hospitals in the nation, according to an independent study by healthcare data firm HCIA-Sachs Institute (now Solucient Leadership Institute).

A 2004 study, commissioned by The Commonwealth Fund Mission, named Mission as one of the top hospitals in the nation. 

Ranking among the top 50 hospitals in the entire nation for heart and heart surgery services by U.S. News & World Report in their 2003 health care ranking edition. There were only three other North Carolina Hospitals in the top 50; there were none in South Carolina.

Orthopedic Network News, an information service for orthopedic cost and quality issues, ranked Mission Hospitals third in the number of Medicare spine cases performed nationwide (2002; Millennium Research Group study).

In Solucient Leadership Institute's 2001 "100 Top Hospitals: ICU Benchmarks for Success" study, Mission's Intensive Care Units are rated among the nation's top 100.

Named by Solucient Leadership Institute as being among the top 100 hospitals in Clinical Research Programs for breast cancer research programs, February 2001.

Ranked 9th in the nation among integrated healthcare networks for the year 2000 and among the top 100 for the Year 2001 by SMG Marketing Group Inc. of Chicago.
_____________________________________________________________
MedWest – Haywood Regional Medical Center 
262 Leroy George Drive
Clyde, NC 28721
828-456-7311
MedWest-Haywood is a not-for-profit public hospital located in Haywood County and licensed for 189 beds. The hospital was created in 1927 as the first county hospital in North Carolina.  MedWest is a comprehensive acute care Medical Center with a targeted focus on preventive healthcare. Our history of caring for residents of Haywood County and surrounding counties began in 1927 when Haywood County Hospital opened as the first county hospital in the state. The autumn of 1979 brought a new era of healthcare to the area when our main building was completed on our present location. A 17-acre tract of land donated by Reverend and Mrs. L. B. George of Lake Junaluska helped make our beautiful mountain setting possible. The main entrance drive is named in memory of their son, Leroy George. Since our founding, the area has grown through many phases and we have responded by growing along with it. Located on 51 acres of land, HRMC is a major health care provider today, featuring centers of excellence providing a comprehensive array of the finest medical services available, and always remaining a compassionate, family Medical Center. Haywood Regional Medical Center, the largest healthcare facility in Western North Carolina west of Asheville, is your resource for healthy living in Western North Carolina.
___________________________________________________
Park Ridge Health 
100 Hospital Drive
Hendersonville, NC 28792
828-684-8501
For more than 100 years, Park Ridge Health has served our community as a leading not-for-profit community hospital, passionate about health. Beginning as a small, one-building care center in 1910, the organization has grown both in size and expertise during the past 100 years — leading the way in the newest technology and treatments, all focusing on the whole person.
Health has always had a treasured place in our history. From our early beginnings as a destination for those looking to experience the healing properties of our mountain oasis, the health of our patients and the health of our region have always inspired us.
Today, 101 years after beginning our dedication to health, we have never wavered in our mission of providing an environment of Christian compassion and care for those in need of healing, health or hope.
Beginning as a small, one-building care center, we have grown both in size and expertise during the past century – leading the way in the newest technology and treatment as the only faith-based hospital in Western North Carolina.
From employing the very first registered nurses in North Carolina in 1916, to offering the first 64-slice CT Scanner in the state in 2006, Park Ridge Health has participated in a number of firsts that reflect the unwavering dedication of our more than 1,100 care givers and 223 physicians to caring for the whole person – mind, body and spirit.
Our strength of purpose and passion for health is also aided by our relationship with the Adventist Health System – as one of 44 hospitals that comprise the second-largest not-for-profit Protestant health care system in the nation.
The community has turned to us in times of joy and celebration and in times of sorrow; they've grown-up in our care and have shared our passion for life-long wellness. It is in our next century of service that we want to continue sharing this commitment to health.
We are so much more than a hospital.
Welcome to Park Ridge Health.
Park Ridge Health is fully-accredited by the Joint Commission on Accreditation of Healthcare Organizations.
For additional information about programs and services, contact Park Ridge Health at 828.684.8501 or visit online at parkridgehealth.org.
_______________________________________________________
Thoms Rehabilitation Hospital
68 Sweeten Creek Road
Asheville, NC 28803
828-274-2400
From it's beginnings in 1938, CarePartners Thoms Inpatient Rehabilitation Hospital has stood its ground as a regional leader in physical medicine, offering traditional and specialized rehabilitation programs to individuals with physical, cognitive, and developmental impairments.
A PLACE RECOGNIZED FOR EXCELLENCE Established as a 20-bed haven for children with disabilities, CarePartners Thoms is now a 100-bed private, not-for-profit regional referral center. Care at CarePartners Thoms covers all levels of rehabilitation, from the treatment of minor sports and work injuries on an outpatient basis to rehabilitation programs for serious and critical diseases such as stroke and spinal cord injuries. CarePartners Thoms has been recognized by the national Rehabilitation Accreditation Commission, CARF, for our qualified, energetic, committed and dedicated staff.
A PLACE WHERE TEAMWORK IS THE KEY TO INDEPENDENCE Rehabilitation is a different process for every individual. For some it means learning to walk again; for others, adjusting to the challenges of a wheelchair or artificial limb. Relearning to tie a shoelace, comb one's hair or feed one self for some can be a major achievement. But every accomplishment, every success, is one step closer to a fuller, more independent life.
OUR GOAL IS TO HELP OUR PATIENTS SUCCESSFULLY TAKE THOSE STEPS TO INDEPENDENCE Working together with patient and family, CarePartners Thoms inter-disciplinary teams move patients toward becoming as independent as possible in a timely manner. The depth of care and expertise provided by these teams has made CarePartners Thoms one of the finest full-service rehabilitation facilities in the nation.
Thoms is a comprehensive rehabilitation facility that offers a wide spectrum of programs for patients with physical and cognitive impairments. Services available include:
Physical Therapy

Occupational Therapy

Speech and Language Therapy

Psychology

Seating Clinic

Aquatic Therapy

Orthotics and Prosthetics

Laboratory Services

Respiratory Therapy

Radiology

Drivers Evaluation Services
 ________________________________________________________
Pardee Memorial Hospital 
800 N. Justice Street
Hendersonville, NC 28791
828-696-1000
Mission/Vision Statement
As the center of a not-for-profit, community health care system, Margaret R. Pardee Memorial Hospital provides leadership in quality, compassionate, cost effective health care services, both prevention and treatment, with the goal of promoting the health of our community.
Hospital Facts
Pardee is a not-for profit community hospital founded in 1953. Pardee Hospital is licensed for 222 acute care beds. In addition to the hospital,
Pardee has a 130-bed nursing facility, an adult day care center, home health services, a health education center, a rehab and sports therapy complex, a women's health center, two urgent care facilities and several family and internal medicine practices. Pardee is noted for its outreach in the community through our wellness and prevention services, as well as high-tech diagnostic and treatment capabilities. Pardee is fully accredited by the Joint Commission on Accreditation of Healthcare Organizations (JCAHO).
Facts (based on fiscal year 2005)
Pardee Hospital is the second largest employer in Henderson County with 1,350 employees.

 Pardee is governed by a Board of Directors appointed by the Henderson County Board of Commissioners.

Approximately 250 physicians and dentists are on Pardee's medical staff, representing 28 specialty areas.

In 2005, the more than 300 active members of the Auxiliary provided more than 40,000 hours of volunteer work and contributed nearly $250,000 to Pardee Hospital.

More than 8,400 people received care during an inpatient stay at Pardee Hospital.

The hospital's Family Way Unit welcomed 595 babies to the community.

There were 29,508 visits to the Emergency Department.
___________________________________________________________
VA Medical Center 
1100 Tunnel Road
Asheville NC 28805
828-298-7911
The Asheville VA Medical Center is a tertiary care facility in all areas except hemodialysis, neurosurgery, and radiation therapy, and is classified as a Clinical Referral Level II Facility. Comprehensive health care is provided through primary care, tertiary care, and long-term care in areas of medicine, surgery, psychiatry, physical medicine and rehabilitation, neurology, dentistry, geriatrics, and extended care. The Asheville VA Medical Center (AVAMC) consists of 112 hospital beds and a 120-bed Extended Care and Rehabilitation Center. AVAMC also operates a Home Based Primary Care Program and a Substance Abuse Residential Rehabilitation Treatment Program (SARRTP). The medical center is particularly known for its strong programs in cardiac (open heart), vascular and thoracic surgery.