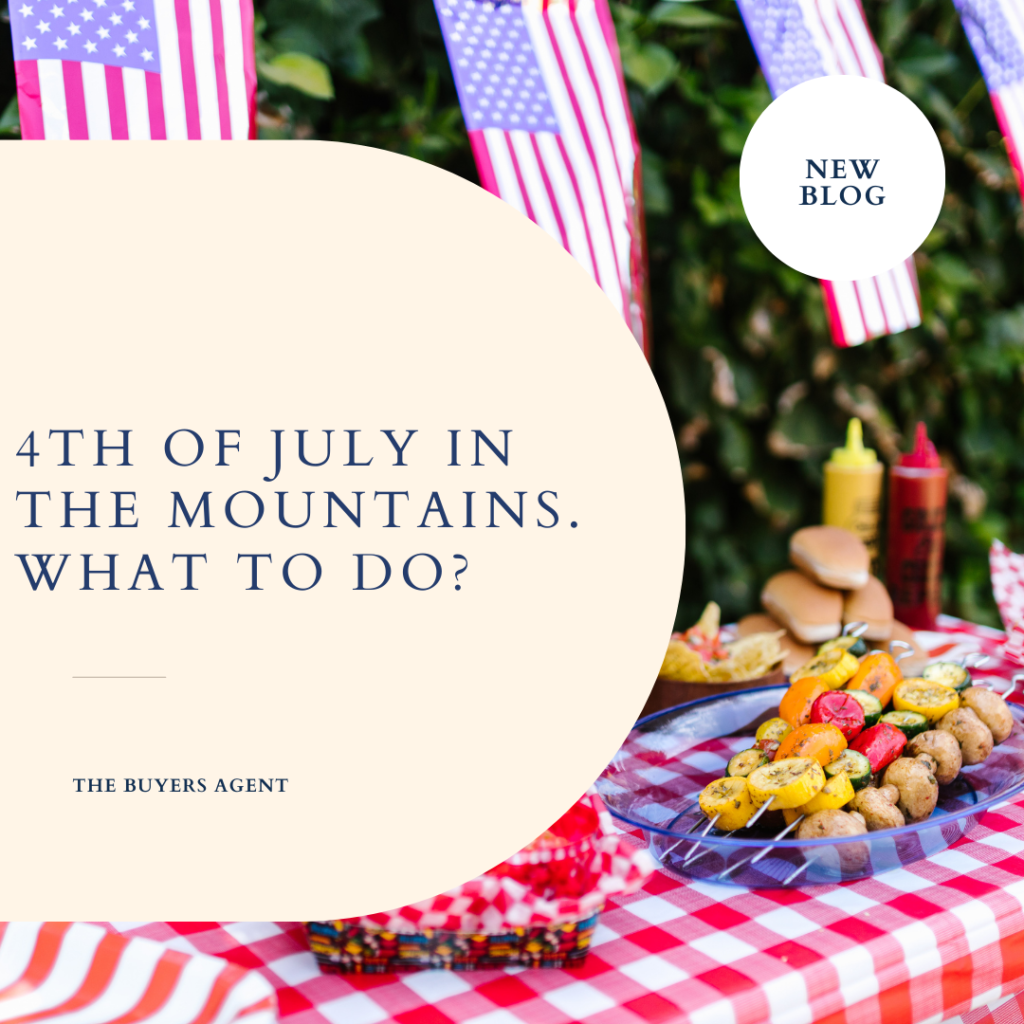 Not sure what to do this upcoming Independence Day? Let us help!
There are so many fun, family friendly activities o do here in WNC!
Downtown Asheville- Start the fun at Pack Square Park on Tuesday, July 4th! Watch dogs compete for the longest jump at the Ultimate Air Dogs event happening at 1 PM, 3 PM, and 5 PM. Food and beverage vendors open at 5 PM and include local breweries and cideries, as well as a variety of food trucks. Enjoy live music on the Pack Square stage from 5:45-9:30 PM. Fireworks at 9:30 PM can be best seen from the park (buildings will block the view in other parts of downtown). Bring your chair or blanket to picnic. Dogs must be leashed, but please consider leaving your pet at home since fireworks frighten pets. Address: 121 College St.
South Asheville- At Lake Julian, the fireworks show starts at dark (9-9:30 PM) on the 4th, but come early. Bring your lawn chair or blanket and find a spot along the lake. Enjoy food trucks and live music throughout the afternoon and into the evening. The park offers picnic tables, grills, a sand volleyball court, two horseshoe pits, boat rental, and a playground. Bring a picnic! Park at William W. Estes Elementary School (275 Overlook Road) across from the lake. Free Daytime shuttle 8 AM-6 PM. No pets, please, due to crowds. No alcohol or tobacco products. From Asheville, take I-26 East to Exit #37. Turn left at the light onto Long Shoals Road. Address: 406 Overlook Extension Arden.
Bryson City- On Tuesday, July 4 the fun begins at 10 AM with all-day events featuring arts, crafts, food, and live music starting at 6 PM. Enjoy Fourth of July food favorites – funnel cakes, shaved ice, Philly cheese-steak sandwiches, BBQ, kettle corn, and more. Also explore Bryson City shops, galleries, and museums. Dine-in or outdoors at restaurants or take food truck treats to one of many picnic tables or pavilion nearby. The fireworks show starts at 10 PM. Go rafting or tubing down Deep Creek! Bryson City never dissapoints!
Lake Junaluska- Visit just for the day or stay with an overnight package! On Monday, July 3rd enjoy music, barbecue, and fun. Live music starts at 7 PM and fireworks at 9:30 PM. Or stay with one of their overnight packages that include lodging, a lake cruise on the Cherokee IV, and a kayak, canoe, or paddleboard rental.
Sylva: On the 4th, enjoy live music starting at 6:30 PM, followed by fireworks at dark (generally around 9:45 PM) in the picturesque "all-American" small town nestled in the mountains. Stroll Main Street is filled with shops, restaurants, and breweries.
Cashiers: July 4th fireworks on the Village Green with festival, food, music, and dancing. 6:30-10 PM.
Marion: On July 4th enjoy a downtown parade at 6 PM and fireworks at 9:45 PM
Lake Lure: On Saturday, July 2 watch fireworks at dusk over the lake from Morse Park (2948 Memorial Hwy, Lake Lure). Bring your picnic and chairs. No alcoholic beverages are allowed. Also watch from the beach, opening at 8 PM. On the 4th, fireworks will be at Rumbling Bald Resort for their guests, but others enjoy from boats on the lake. Expect traffic bottlenecks after fireworks since there's just one road out!
Hendersonville: July 4th festivities start 10:30 AM with a parade, inflatables, kid's games, and activities, and food trucks. At 5 PM live music will kick off at two stages: Hendersonville Welcome Center stage and the Historic Courthouse Square. Fireworks will begin at 9:30 PM and launch from South Grove Street. Bring chairs and blankets.
Waynesville: The Stars and Stripes daytime celebration happens Tuesday, July 4th starting with a children's parade on Main St. at 11 AM and concluding with a concert at 2 PM. No fireworks in downtown Waynesville, but you can see them nearby in Maggie Valley and Lake Junaluska!
Maggie Valley: Backyard Fourth, gates open on July 4 at 6 PM and fireworks at dark. Free admission. Alcohol-free. Festival Grounds, 3374 Soco Road Maggie Valley.
Cherokee: Pow Wow on June 30-July 2 with authentic Indian dancing, drumming, and tribal regalia. Fireworks Saturday July 1, 2023 at 10 PM
Black Mountain: With the the support of our sponsors, the Town of Black Mountain hosts an annual July 4th Fireworks Show at River Walk Park. The show begins at dusk. In the event of dangerous weather conditions alternate arrangements will be announced.
Brevard: This City of Brevard is thrilled to announce its highly anticipated Independence Day celebration, set to take place on July 4, 2023. This year, the 4th of July festivities will return to Brevard College. The event, hosted by the Heart of Brevard and Brevard College, will begin with the Brevard Fire Department raising the American flag near Green Hall at 2:00 p.m. Attendees will then be able to enjoy the BC campus and visit snack vendors next to the field house. Families are invited to bring lawn games, food, chairs, and blankets during this celebration of the 4th of July holiday. A reading of the Declaration of Independence will air on WSQL, and music will be provided at the College by Sound Extreme starting at 6:30 p.m. and lasting until the fireworks begin at 9:30 p.m. The spectacular firework display can be viewed from a number of locations on the BC campus, including the interior of the track. Prior to the community celebration at the College, residents and visitors will have myriad opportunities to partake in other local events. The Rotary Club of Brevard will host its Red, Blue, and White Squirrel 5k race on Saturday, July 1, beginning at 8:00 a.m. at Depot Railroad Avenue Park.
Mars Hill: July 4th celebration at Mars Hill Park. Daytime activities. Fireworks at dark.
Whether you plan to stay home and enjoy the evening in our plan to head out to one of these incredible events, we hope you have a fun, safe, blessed 4th!
Know of any other 4th activities? Let us know and we'll add it to our list!
Thank you Romantic Asheville and local town websites for information on local activities!
REMINDER: FIREWORKS ARE ILLEGAL IN NATIONAL FORESTS. Fireworks and other pyrotechnic devices are prohibited on all national grassland and national forest lands year-round, regardless of weather conditions or holidays. Regulations are enforced, and violation is punishable as a misdemeanor by a fine of not more than $5,000 or imprisonment of not more than six months, or both.