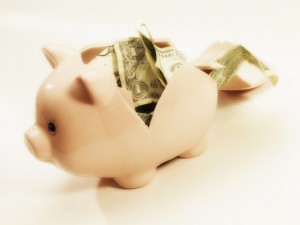 Shopping for houses can make you a little giddy. Look at this one! And this one! Maybe you fall in love with the granite countertops, the master closet, or the landscaped yard perfect for entertaining. Once this happens, you start thinking to yourself, for a little bit more, you could get granite countertops, plus the office nook!
You're dealing with such large numbers when you're browsing real estate that it might not seem like such a huge deal to stretch another $10,000 or $15,000 to get the home you really love. But that's not a game you want to play. Set a budget for your maximum monthly expense. Take into consideration what might happen if your income goes down, and don't over extend yourself. People look at the top end of their affordable monthly payment, and forget about the what if's, like job changes or emergencies. If you're wondering what percent of your budget should go toward housing, check out the 50/20/30 Rule.)
What to do: Get pre-approved for a mortgage. Get an idea of where you need keep your budget. Make a list of your needs and wants and work with a realtor who understands the bottom line. Don't get "talked" into something you are uncomfortable with. Don't max yourself out.