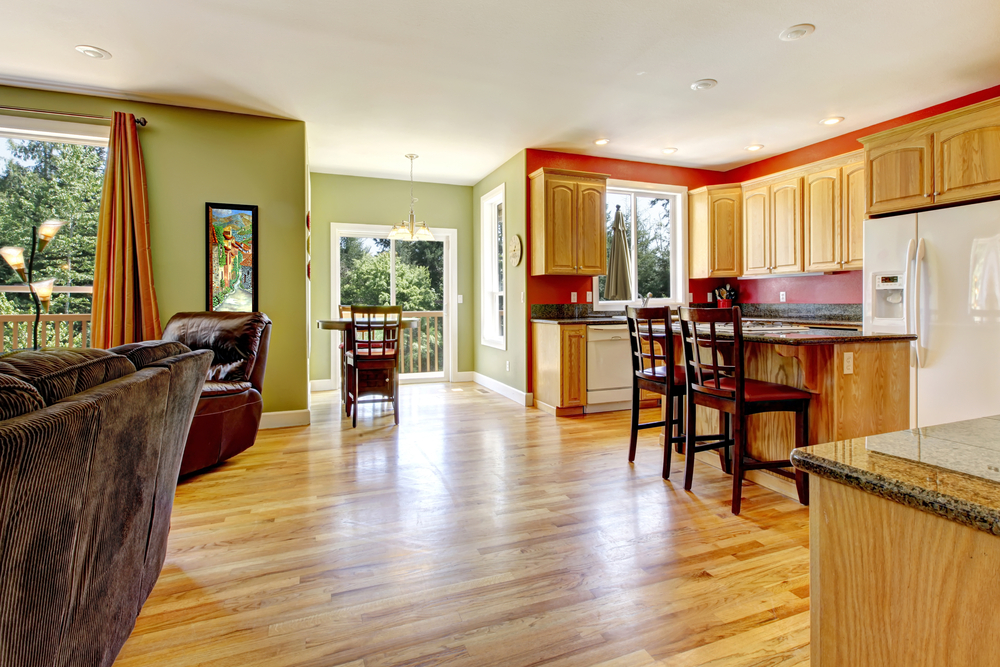 Many of the homes in and around Asheville have wood floors, and the question remains, 'What is the best way to clean them?'  Wood floors have a protective barrier finish on them, typically referred to as urethanes or polyurethanes. The type of finish, rather than the species of wood, determines how you clean your wood floor.
Homes built before 1970, including many historic homes, may have original wood floors that were sealed with varnish, wax, or shellac. These types require a different approach to the cleaning method.
So, how do you figure out what type of finish you have?
Run your hand over the wood. If you can feel the texture of the grain, the floor has a "penetrating" finish (usually a combination of a natural oil, such as linseed or tung oil, mixed with additives for drying) topped with wax.

In an out-of-the-way spot, dab on a little paint remover. If the finish bubbles up, it is a surface finish, like polyurethane, which coats the floor in a protective layer.

In an out-of-the-way area, place a few drops of water. If the water beads up and does not soak into the wood, the finish on the floor is intact. If the water is absorbed into the floor or leaves a dark spot, the wood is unfinished or the protective layer has worn away.

If you sprinkle on a few drops of water and white spots form beneath the droplets after about 10 to 15 minutes, the floors are sealed with wax. To remove the white spots, use a piece of fine steel wool lightly dampened with wax and rub gently.
If you suspect a varnish or shellac, take a coin and scratch the surface of the floor in an inconspicuous corner. If the floor has been sealed with one of the older finishing methods, it will flake off.
Regular Wood Floor Cleaning
Cleaning floors with contemporary polyurethane wood finishes  starts with vacuuming, sweeping or dust-mopping the surface.
Vacuuming. Vacuum wood floors daily, or at least once a week with a vacuum fitted with an attachment for wood floors. For regular machines, the American Hardwood Information Center advises turning off interior rotating brushes or beater bars if possible.
Regular vacuuming helps remove dust and dirt particles that play a leading role in scratching and dulling the surface of the floor.
Sweeping. The American Hardwood Information Center says choosing a broom with "exploded tips," also known as synthetic fiber ends, is step one.
Damp mopping. Damp mopping should be done with a simple solution of pH-neutral soap (like dishwashing soap) and water; or one capful of a mild cleanser such as Murphy Oil Soap in a bucket of water; or a solution using products specially formulated for wood floors.
To begin mopping, dampen the mop in the prepared solution, wring it out completely, and mop in the direction of the wood grain. Repeat as necessary. As the water in the bucket becomes dirty, dump it out and refill. Many experts (including Martha Stewart) believe scrubbing wood floors with a damp cloth by hand is the ultimate cleaning strategy — unless abundant square footage or protesting knees prove problematic.
But avoid cloths or mops dripping with water. If your floors do get wet or worse, dry them immediately!
Unfinished or Waxed Floors
Unfinished or waxed floors, like those in older and historic homes, as well as floors in which the protective seal has worn away, should never be treated with water or liquid cleansers, which may penetrate, stain or warp the wood. Instead, according to cleaning experts, sweeping with a soft-bristled broom and vacuuming should be done as the primary line of defense. The NWFA says to step away from the mop: Never damp-mop a waxed floor.
Beyond basic care, buffing and waxing the floors once or twice a year should maintain the shine. 
Old-fashioned shellacked floors are not common in most homes. However, if you find yourself the proud owner of this vintage flooring, regular care should include sweeping and vacuuming often. Avoid water and liquid cleansers.
The Buyer's Agent of Asheville is dedicated to help clients find homes they can adore and afford. With its team of 10 experienced real estate brokers, The Buyer's Agent of Asheville has been loyally assisting home buyers in the Asheville, North Carolina area. We're focused to search for ideal homes without distractions, shady deals, and conflicts of interest. Please make an appointment to visit our offices at 82 Patton Ave, Suite 211, Asheville (map) by calling our 24/7 service number: (828) 210-4663.