What is there not to love about pizza? It's an American comfort food, and Asheville locals are fond of this staple as well. This city offers a variety of flavors and twists that pair well with the numerous  AVL craft beers. So, where do the locals go to enjoy a pint and a slice of pie? Find out below. (Listed in no particular order, because, they are all so tasty.)
Asheville Pizza & Brewing – It's been a local hot spot for years. The original location on Merrimon Ave is home to a theater with weekly screenings of movies suitable for the whole family. The pizza is good, and with their own beer on tap, you won't be disappointed. Locations at 77 Come Ave, 675 Merrimon Ave, and 1850 Hendersonville Rd Suite A.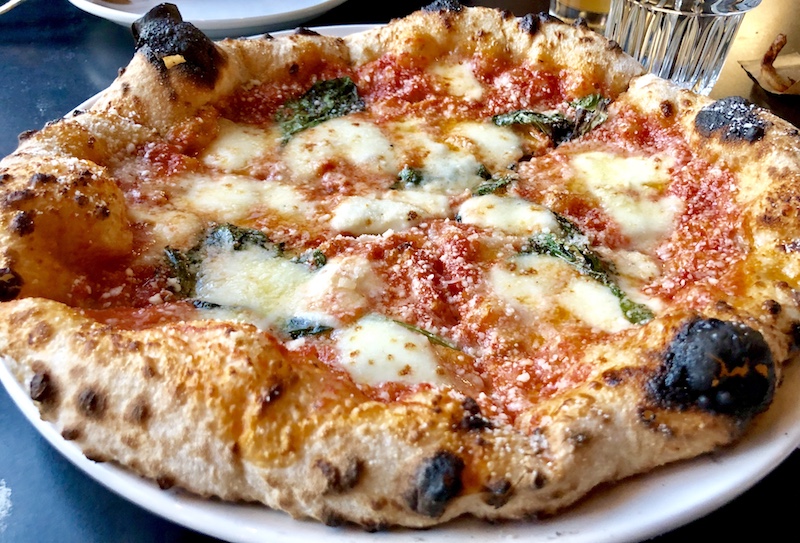 White Labs Kitchen & Tap – There is something about the dough. Oh wait, White Labs is a local yeast grower and supplier to most of the local breweries. They've taken their craft and fine tuned it for excellent pizza dough. The space is small so we suggest reservations or arriving early, especially in the summer months. Located at 172 Charlotte Street.
Mellow Mushroom – Who does not smile when they see Mellow Mushroom. It's fun, and always packed. Located conveniently in downtown Asheville, it is great for outdoor eating and people watching in the summer. Located at 50 Broadway Street.
Barley's Taproom and Pizzeria – Located on Biltmore Ave, this place has been a local favorite since opening in 1994. We love the calzones, the pizza, and the nostalgia of the place. It is a fun environment and great for any occasion.  Located at 42 Biltmore Ave.
Brixx – South Asheville residents and those who live in Biltmore Park, love Brixx. The Mexican pizza a personal menu favorite. Offering wood-fired pizza along with other menu items, this eatery deserves a mention for when you are South, or shopping at REI or Barnes & Noble.  Located at 30 Town Square Blvd.
Social Lounge – Known for it's cocktails and Italian flare, The Social offers a tasty Fig & Goat Cheese pizza if you are into exploring something different for your taste buds. They also offer a few other options, including a couple of standby's. Located 29 Broadway Street in downtown.
All Souls Pizza – It's a hot spot in the River Arts District and oh so tasty. Using fresh ingredients and mill their own flour and polenta from organic grains. Their parking lot is always filled, so you know locals love it. Located at 175 Clingman Avenue.
If it's pizza you want, go out and try one of the many local spots for a beautiful slice of pie. The best news, most places offer gluten free options. Welcome to pizza in Asheville, where pie and beer go hand-in-hand. Happy 🍕 !
The Buyer's Agent of Asheville is local real estate firm located in downtown Asheville, N.C., dedicated with laser focus, fierce negotiating skills, and detailed transaction management, so you can rest assured knowing that your real estate needs are our top priority. Get access to all homes in your price range that match your needs and wants.  Search Asheville Homes for Sale

The Buyer's Agent of Asheville has been loyally assisting home buyers in the Asheville, North Carolina area for over a decade. Make an appointment to visit our office at 138 Charlotte Street, Suite 210, Asheville or call our 24/7 service number: (828) 210-4663.