In 2013 Condé Nast named Asheville in the top ten friendliest U.S. cities, and it still remains a contener today. In 2017 Asheville has received more Accolades than ever before. With restaurants inspiring the nation and a variety of new hotels, Asheville is growing by popular demand. The laid back lifestyle, creative atmosphere and impressive scenery has even us re-falling in love with our beautiful mountain town.
This list of accolades in impressive, but there is so much more to know and love about Asheville- such as the history, the fly-fishing, hiking and mountain biking trails, farm to table culinary delights, the pastries, the art scene, the waterfalls, the chocolate, the hospital, the schools, the architecture, the music, the comedy, the street performers, and so much more. Overall, Asheville brings a smile to so many faces.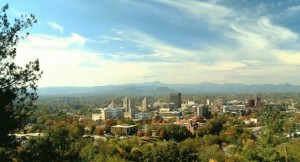 Condé Nast Traveler named Asheville as one of The Best Small Cities in the U.S.  (October 2017) 
Expedia listed Asheville as one of The 12 Best Music Towns in the Nation. (September 2017)
Asheville made Garden & Gun's "The South's Best Food Towns" list. (September 2017)
Asheville topped RewardExpert's "2017 Best American Foodie Towns" list for the South Atlantic region. (September 2017)
Southern Living selected Asheville as one of its "15 Southern Cities All Food Lovers Should Visit Now." (August 2017)
CarRentals.com included Asheville in a round-up of the "20 Most Unique Cities to Visit in Your 20s." (July 2017)
Asheville was recognized as one of Travel + Leisure's "Top 15 Cities in the United States." (July 2017)
U.S. News & World Report named Asheville #3 on its "Best Small Towns to Visit in the USA" and #20 on its "Best Places to Visit in the USA" rankings. (June 2017)
Asheville's music scene was recognized by SmarterTravel.com, making its "9 Best Destinations for Music Lovers" list (the only U.S. destination to do so). (June 2017)
TripAdvisor.com placed Asheville among its "20 Best Summer Vacations in America to Fit Your Budget." (May 2017)
Thrive Global featured places tourism advocates are not promoting, yet should be- "9 Under-the-Radar Hot Spots in Asheville"
Asheville was featured on Expedia's Viewfinder blog as a "Top-Rated Vacation Destination in North America." (April 2017)
FlipKey.com, a company of TripAdvisor, recognized Asheville on its list of "Six 'Hidden Gem' Spring Break Destinations to Explore in 2017." (March 2017)
Tasting Table picked Asheville for its round-up of "The 7 Under-the-Radar Cities You Must Visit This Year." (January 2017)
Asheville was included on lists of "The 17 Best Places to Travel in 2017" by both Harper's Bazaar and Esquire. (January 2017)
Travel + Leisure selected Asheville as one of the "18 Best Cities in America for Solo Travelers." (January 2017)    
AFAR ranked Asheville among its 16 U.S. destinations to explore now. (January 2017)
Asheville was named Lonely Planet's #1 "Best in the U.S. Destination for 2017." (January 2017) 
The Buyer's Agent of Asheville is local real estate firm located in downtown Asheville, N.C., dedicated with laser focus, fierce negotiating skills, and detailed transaction management, so you can rest assured knowing that your real estate needs are our top priority. Get access to all homes in your price range that match your needs and wants. 

Search Asheville Homes for Sale The Buyer's Agent of Asheville has been loyally assisting home buyers in the Asheville, North Carolina area for over a decade. Make an appointment to visit our office at 82 Patton Ave, Suite 211, Asheville or call our 24/7 service number: (828) 210-4663.