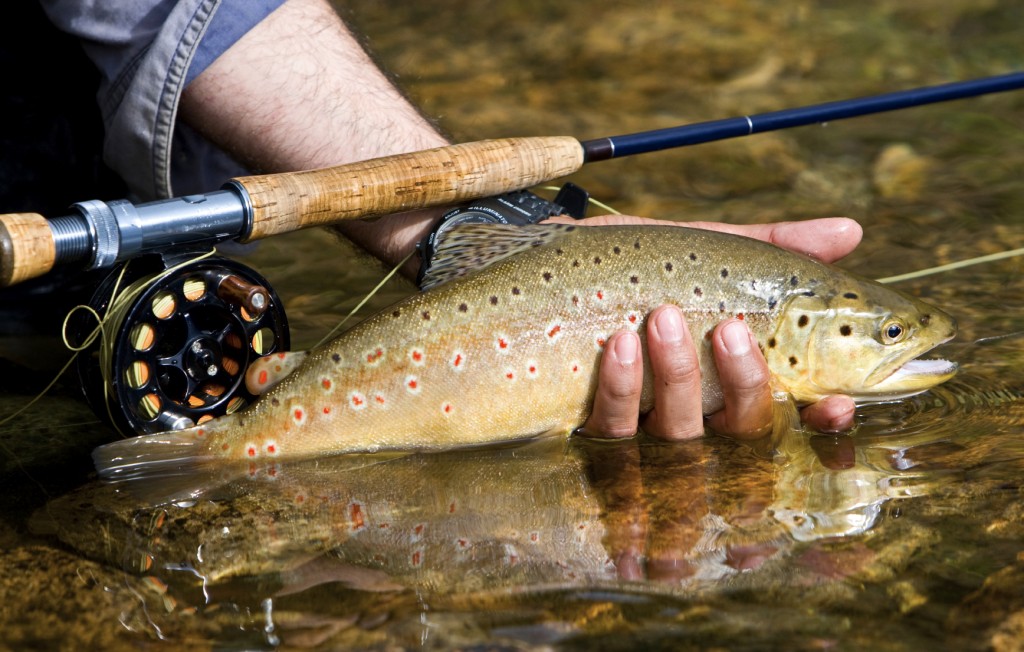 The Western North Carolina Fly Fishing Trail:.
Welcome to fly fishing country, where the sport of angling is more attractive than hoops or a baseball diamond. Fly Fishing is the ultimate WNC sport because of its natural setting, numerous skill requirements, and understanding the way of the wily trout. Now, these skills can put to the test on the WNC Fly Fishing Trail in the Nantahala National Forest. In fact, there are 15 spots on this trail in Jackson County for catching prized brook, brown, and rainbow trout. Plus, it's the first and only fly fishing trail in the United States.
Jackson County: Gateway to the Trout
Forty five minutes west of downtown Asheville sits Jackson County. The fortuitous location of Jackson is evident in its wealth of natural settings. Waterfalls, bold rivers, serene forests, and of course, tons of trout await the angler.  Beginners and experts alike will find plenty of spots to test their lines. Hiking to remote spots is available for the avid hiker. Or, folks with time constraints can drive right up to several watering holes. Plenty of lodging exists in Jackson County, and the tourist town of Sylva (near Western Carolina University) is a great place to spend an evening.
The New Trail on the Block
The WNC Fishing Trail doesn't have a slew of folklore legends. Nor does it show up in the annals of famous trails. At least not yet. The young trail opened in 2009 thanks to the hard work of the Jackson County Tourism Authority. Trail builders, local fishing guides, and other natural enthusiasts came together to create and promote the trail. Nantahala and Jackson County had long been a playground for fly fishing fanatics, and it was a no-brainer to add a trout trail around an area rich in streams, creeks,
and rivers
Decisions, Decisions
The trail includes 11 creeks and four rivers – the Tuckasegee, Chattooga and Whitewater Rivers, and the newly added Raven Fork. The vast variety of locations, water spots and fish draw in anglers from amateurs to TV fishing celebs.
New to angling? No problem. Five "catch and release" spots along the Tuckasegee River (called the "Tuck" by locals) will entice beginners due to open areas and stocked fish year round. Amateurs can even make a go at the "Tuckasegee Slam" by catching all three species—brown, brook, and rainbow— of trout.
The more discerning or serious fly fisher can trek into the wilderness for a remote experience. A two mile hike into the "Yosemite of the East" is the perfect secluded setting. The craggy bluffs and bowl shape interior of Panthertown Valley is the reason for its laudatory nickname. Panthertown Creek sits amidst numerous waterfalls, towering hemlocks, and a teeming trout population. Despite Panthertown's beauty, anglers can sometimes have prime fishing real estate to themselves during the week
Experts can also find numerous challenges along the bigger rivers, including Chattooga, Whitewater, and Tanasee
Psst… Not So "Secret" Sweet Spots
We mentioned the "Tuckasegee Slam" earlier. If you're new to the sport, but long on bragging to friends, there is a spot for an opportune slam. The area along the "NC 107 Bridge to Dillsboro Park" will give the beginner at shot at triple trout infamy.
As mentioned before, folklore fishing stories have yet to occur on the WNC Fly Fishing Trail. But the newly added trophy water Raven Fork section–on the Cherokee Indian Reservation — is a prime candidate for tall "I caught a fish this big" tales. The catch and release only spot is a 2.2-mile stretch of water northward from the Blue Ridge Parkway Bridge outside Cherokee. The water is regularly stocked with large rainbow, brown and golden trout. Don't be surprised to find a 20-30 inch fish at the end of your line.
.  Anglers wishing to fish Raven Fork need to purchase a $20 special use permit and a $7 daily permit from the Eastern Band of the Cherokee Indians.
Then there's the Delayed Harvest Section, which many call the "Crown Jewel" of trail. Stretching five miles along the "Tuck", the DH section is the most heavily stocked section in North Carolina.  The months of November, December, March, April, and May each get two days of stocking, with close to 10,000 fish being stocked.  The stocking days are either the first Tues./Wed. or the first Wed./Thurs of each stocking month.
The 15 Spots
The WNC Fly Fishing Trail website-www.flyfishingtrail.com-offers extensive info on each spot.  Fly fishers will have all their questions answered with the website's informative break-down of each site.
A sample of the info:
1). SCOTT CREEK
The Stretch: Roughly 10 miles from headwaters near Balsam down to Sylva
Access Point(s): Parking and access available via several pull-off areas along U.S. 23/74
Type of Water: Hatchery Supported
Available Fish: Brown, Rainbow
Numbers or Size?: Numbers
Noteworthy: Stretch also includes North Fork ScottCreek and Buff Creek, which are very scenic
2). SMALL STREAMS: Moses Creek, Mull Creek, Rough Butt Creek, Chastine Creek, Piney Mountain Creek
The Stretch: Collection of small streams in eastern Jackson County, below Blue Ridge Parkway
Access Point(s): Via Moses Creek Rd (SR 1740) & Caney Fork Rd (SR 1737), avoid posted land
Type of Water: Wild Trout
Available Fish: Brook, Rainbow
Numbers or Size?: Numbers
Noteworthy: Mountainous terrain, includes several large waterfalls
WNC Fly Fishing Trail Proximity Map
A free, water-resistant map of the trail is available by request on the website or by visiting or calling the Jackson County Travel & Tourism Authority at 1-800-962-1911. The map gives extensive information such as "access points, waterway designations and regulations as well as the species of fish available, whether a stream produces fish of quantity or size, interesting information about the site and how far you have to walk to get there."
The WNC Fly Fishing Trail website will get you started on the right foot and even offers GPS coordinates for all the trails. Besides fishing info, it also offers information on lodging, area activities, available guides, and how to enjoy your time when not fly fishing
Go to www.flyfishingtrail.com to begin the vacation.