Looking to buy a home? In these cities, prices are attractive, there are plenty of homes to choose from — and buyers have the upper hand, according to Realtor.com.
Related: 5 best markets to sell a home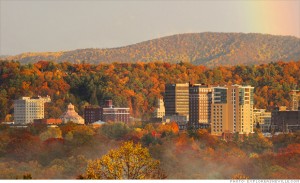 Southern South Carolina
Median listing price: $269,900
Days on market: 156
This large metro area in southern South Carolina includes old towns like Beaufort, as well as more modern developments like the resort communities on Hilton Head Island.
"[The area] has history and charm without the hassles of bigger cities," said Edward Dukes, a broker with Low Country Real Estate.
The region was also the best buyers' market in the nation in February, according to Realtor.com. Home prices dropped 5% from the year before, hitting a median price of $269,900.
Homes stay on the market for an average of 156 days, giving buyers plenty of time to shop around and bargain with sellers. But the great deals may not last long.
"More deals are closing, there are more multiple bids, and fewer homes on the market," said Dukes.
Reading, PA.
Median listing price: $173,700
Days on market: 149
Reading is one of the poorest cities in the country, but it's also a place with a fine stock of old, beautiful houses.
Buyers can nab great deals and they have plenty of inventory to choose from — from stone and brick row homes downtown to sprawling properties with plenty of acreage.
A well-kept, three-bedroom home in the city is currently on the market for $179,000, while a four-bedroom farmhouse outside town sells for about the same price.
Home prices in Reading remained fairly stable during the boom and bust markets, falling only about 10% from peak to trough. That makes house-hunting practically pressure-free for buyers, who don't have to worry about soaring — or plunging — values.
Santa Fe, NM.
Median listing price: $389,450
Days on market: 147
Santa Fe is a small, affluent area with a vibrant arts scene and a heavy reliance on tourism.
Because of its small size — the city's population is less than 70,000 — and the fact that a large percentage of its housing stock is used as vacation homes, "you see greater market fluctuations there than most places," said Errol Samuelson, president of Realtor.com.
After falling 20% since 2007, home prices are forecast to rise 9.1% over the next five years — the second highest price gain in the nation, according to Fiserv.
Now that the market is heating up, he said people are starting to put more properties up for sale.
Yet, homes are selling slowly here, staying on the market for an average of 147 days. That can give buyers some leverage with anxious sellers when negotiating prices.
Median listing price: $249,000
Days on market: 146
This small city tucked in the beautiful Blue Ridge Mountains regularly appears on Money's "Best Places" lists, including 2010's Best Places to Retire and as a 2009 reader's choice, and boasts a booming arts and music scene.
Homes are relatively cheap: Prices bottomed out in late 2011 and have inched up less than 5% since. And record low interest rates have made the city's housing even more affordable.
A typical home in the Asheville area sells for $249,000, and almost all listings are under $350,000, according to local real estate agent Jon Corbin. Currently, a four-bed, three-bathroom home in town is listed for $330,000.
Related: 10 great foreclosure deals
While the number of homes for sale has been on the decline — falling 10.6% from a year ago — Realtor.com expects inventory to grow as the season changes and sellers look to take advantage of the spring buying season.
Portland, Me.
Median listing price: $260,000
Days on market: 144
Portland has notoriously cold winters, but it also has fresh lobster, clean air and a more reasonable cost of living than most cities on the New England coast.
Home prices, however, run about 20% higher than the national average, but they've managed to remain relatively stable.
"The housing market, like most of the Northeast, has not come back as strong as the states harder hit by the housing bust," said Errol Samuelson, president of Realtor.com.
While the number of listings is down 15% compared with last year, homes stay on the market so long that buyers have plenty of time to find the right place.
Source: CNN Money – By Les Christie @CNNMoney
Source: Realtor.com
Realtor.com bases its rankings on median listings prices, supplies of homes for sale and days to sell new listing. Housing markets include the entire metro areas.