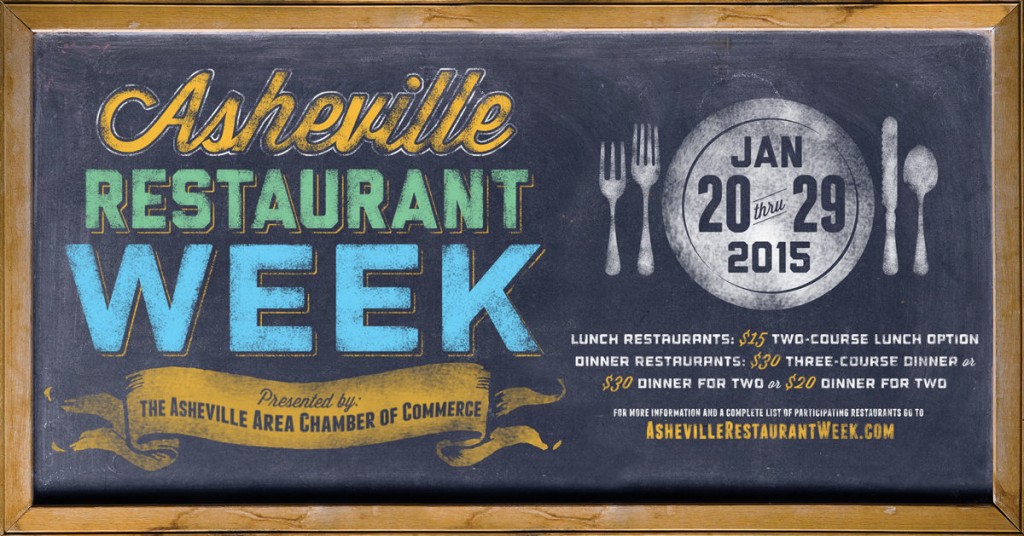 It's true, Asheville is a food lovers dream. Asheville has nearly 250 independent restaurants, and this week we celebrate food, locally-sourced products, and incredible chefs that call this mountain town home. Asheville has earned a spot in the top 10 for food destinations in the United States, so naturally we are excited about Asheville Restaurant Week. Thirty-nine Asheville area restaurants will offer special menus for lunch and dinner during restaurant week which runs January 20-29, 2015.
You can find a prixe fixe menu ranging from $15-$30 per person – lunch: $15 two-course lunch; dinner: $30 three-course dinner, $30 dinner for two or $20 dinner for two.
---
Participating restaurants:
1011 Pizzeria and Delicatessen: 1011 Tunnel Road
131 Main: 308 Thetford St.
Ambrozia Bar and Bistro: 1020 Merrimon Ave.
Another Broken Egg Café: 27 Schenck Parkway #100
Carmel's Kitchen and Bar: 1 Page Ave. (Grove Arcade)
Chai Pani: 22 Battery Park Ave.
Chestnut: 48 Biltmore Ave.
Chop House: Four Points by Sheraton Asheville Downtown, 22 Woodfin St.
Chorizo Latin Fare: 1 Page Ave. (Grove Arcade)
Corner Kitchen: 3 Boston Way
Cucina 24: 24 Wall St.
Cúrate: 11 Biltmore Ave.
Fig: 18 Brook St.
French Broad Chocolate Lounge: 10 South Pack Square
King James Public House: 94 Charlotte St.
Laughing Seed Café: 40 Wall St.
Lexington Avenue Brewery: 39 North Lexington Ave.
Modesto Trattoria: 1 Page Ave. (Grove Arcade)
Nightbell: 32 South Lexington Ave.
Pack's Tavern: 20 S. Spruce St.
Posana: 1 Biltmore Ave.
Red Stag Grill: 11 Boston Way
Rhubarb: 7 SW Pack Square
Roux: 43 Town Square Blvd.
Ruth's CHRIS Steak House: 26 All Souls Crescent
Sante' Wine Bar and Tap Room: 1 Page Ave. (Grove Arcade)
Storm Rhum Bar & Bistro: 125 South Lexington Ave. #103-A
Strada Italiano: 27 Broadway St.
Table: 48 College St.
The Blackbird: 47 Biltmore Ave.
The Bull and Beggar: 37 Paynes Way
The Cantina at Historic Biltmore Village: 10 Biltmore Plaza
The Junction Restaurant & Bar: 348 Depot St. #190
The Lobster Trap: 35 Patton Ave.
The Local Taco: 68 North Lexington Ave.
The Market Place: 20 Wall St.
Wicked Weed Brewing: 91 Biltmore Ave.
Zambra: 85 W. Walnut St.
Vincenzo's Ristorante & Bistro: 10 N. Market St.
---
The Buyer's Agent of Asheville
 is a local Asheville real estate firm dedicated entirely to assisting home buyers find their home. We provide laser focus (see the homes that match your search criteria), fierce negotiating skills (save you money) and detailed transaction management (you don't need to stress). Located at 82 Patton Avenue, Suite 211 in Asheville, North Carolina. Contact the Buyer's Agent at 828-210-4663. Follow

@buyersagentavl

 or

Like on Facebook.