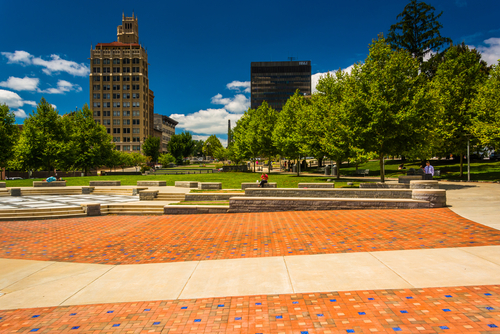 Asheville was recently featured in Forbes Magazine in an article entitled 'An Unexpected Source of Innovation: Asheville, North Carolina'. As many know, Asheville is known for its majestic beauty, beer, and the Biltmore. With tourism numbers reaching record breaking levels, and new hotels sprouting up all over downtown Asheville, this city is putting its name on the map.
Frommer's recently named Asheville the destination of 2015 live on Good Morning America. Beyond its tourism draw, Asheville is making a name for itself on the business front. Mission Hospital is a leading healthcare facility and nationally recognized for its cardiovascular achievements.
With new attention to Asheville's business community, there is much credit to Venture Asheville. Venture Asheville is an initiative to energize a local high-growth entrepreneurial ecosystem. With a focus on sustainable and high growth business, there is a major push to bring like-minded people with ideas together. Local business and investments are rising rapidly, and the creativity surrounding Asheville is now getting national exposure. Local companies like Avadim Technologies has reached global distribution with their product Theraworx, and Asheville startup Doctor Directory, was recently purchased for $65 million.
In addition, there is 1 Million Cups Asheville, a weekly gathering of Entrepreneurs to inspire conversation and growth. The initiative is supported by the Kauffman Foundation and Venture Asheville, and organized by four local entrepreneurs – Paul Hedgecock, Mandy Allfrey, Justin Belleme, and Craig McAnsh.
Business is good in this western North Carolina city. The time to move a business here, launch a startup or invest in one is now. To get involved in the startup community, visit 1 Million Cups weekly on Wednesdays at 9-10am. The gathering is held at RISC networks at 81 Broadway, Suite C, in downtown Asheville. Meet Venture Asheville director Josh Dorfman, learn about Asheville Angels, or connect with other business owners.
The Buyer's Agent of Asheville is a local Asheville real estate firm dedicated entirely to assisting home buyers find their home. We provide laser focus (see the homes that match your search criteria), fierce negotiating skills (save you money) and detailed transaction management (you don't need to stress). Located at 82 Patton Avenue, Suite 211 in Asheville, North Carolina. Contact the Buyer's Agent at 828-210-4663. Follow @buyersagentavl or Like on Facebook.