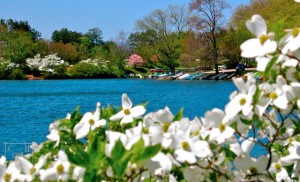 Rich in history and with beautiful scenery, Lakeview Park is a fine development in northern Asheville, North Carolina, next to Beaver Lake. Real estate in this area features beautiful homes, old mature trees, gentle topography and meandering roads through awe-inspiring landscapes. It is, without doubt, a highly sought-after area to live and play.
If you buy real estate in Lakeview Park, there's plenty to keep you entertained. The country club offers golf, fitness, swimming and tennis, and it has one of the finest restaurants around. The Grove Park Inn also has an excellent restaurant, a great pub, and it's the venue of many live concerts. Beautiful Beaver Lake offers fishing, jogging, walking, non-motorized boating, or just plain relaxing. The shops are a stone's throw away, as are the local schools and 'America's Favorite Drive' – the famous Blue Ridge Parkway.
Blue Ridge Parkway forms the backbone of the magnificent mountain region which embraces the highest (southern) part of the Appalachian Mountain range. It winds its way through 469 miles of seemingly endless vistas and meadowlands. Blue Ridge Parkway literally opens up expansive mountain areas all around the city of Asheville for the enjoyment and benefit of all.
The 469-mile parkway closely follows the highest elevations between the Great Smoky Mountains National Park and the Shenandoah, reaching altitudes of 6,000 feet and higher, with an average altitude of 3,000 to 4,000 feet. Take a look at this short video clip showing just some of the scenic wonders along the way:
Living on your own piece of real estate in Lakeview Park, you'll soon understand why it's one of the most desirable areas of northern Asheville.
If you are interested in real estate in Asheville NC or would simply like more information, contact us at The Buyer's Agent of Asheville. Our agents are dedicated to helping you find the home of your dreams. Give us a call today!