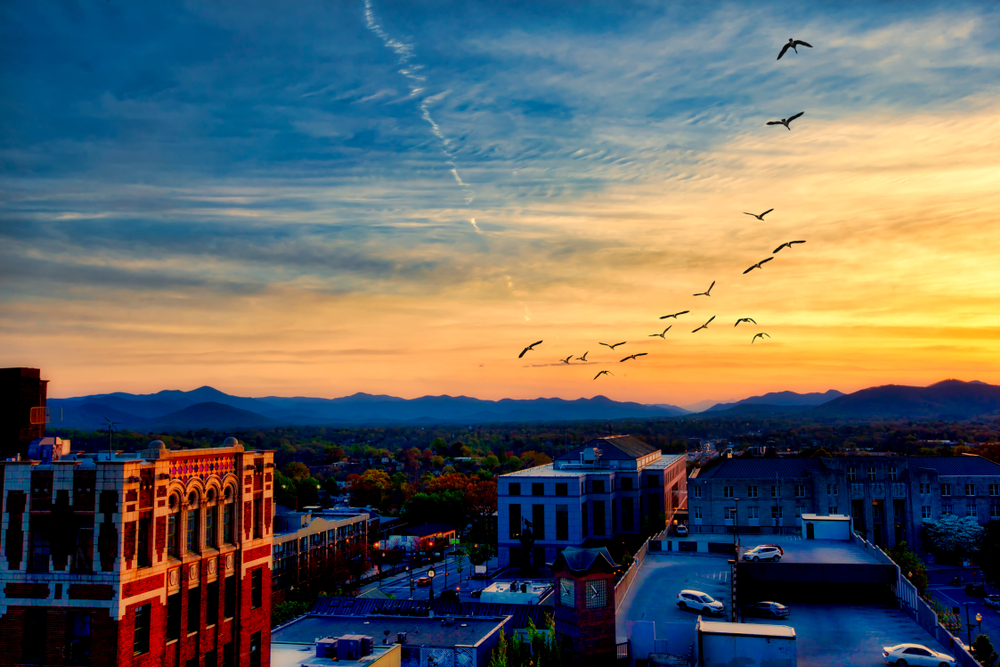 For those that have had the experience of visiting or living in Asheville, you know the charm of the spell this mountain town casts upon you. From the magic of the outdoors to the soul-filling restaurants and shops, each moment of your getaway to this city will bring joy, laughter, and surprise. As an international travel writer few places have captured me like Asheville, so I wanted to share the nine hotspots I must see when I visit Asheville. After traveling the world, these places feel like a welcome home every time I return. 
Origami Ink

– As a writer, I love a great pen. This paper and ink lovers dream is located in Biltmore Village and is a must stop each time I am in town. From gifts to trinkets, to pens, and the finest of papers and note cards, you could not find a more perfect shop for the writer in your life.

Rose's Garden Shop

– Located on Charlotte Street on the way to the Omni Grove Park Inn, this is a flora lover's paradise. With a variety of ferns, air plants, antiques, and more, you will find a gift for your favorite gardener or plant lover. The charm is the atmosphere and Rose the owner who takes pride in not only finding and displaying her selections but also by making every guest feel welcome.

Rocky's Chicken Shack

– It's not fine dining, but it is good food fast. There is just something about the chicken that speaks to me, so when I want to indulge in a delightful chicken sandwich, I show up for the Pimento Cheese Chicken BLT.

The Market Place Restaurant

– Enjoy brunch on the weekends or a nice evening meal out. It is one of my favorite spots to indulge at one of Asheville's fine dining locales. Chef Dissen has created something special on Wall Street in Asheville.

Battery Park Book Exchange

– Sip some bubbly at Battery Park Book Exchange, search for a perfect book, or wrap your hands around a warm mug of specialized coffee selections. The atmosphere invites you in for an afternoon of classic elegance.  

Omni Grove Park Inn

– I love having a cocktail or dinner at sunset. It truly is one of the most spectacular views in the area, and an indulgence you will be glad you did. You have to go for the view, and it is that good.

5 Walnut Wine Bar

– In a city known for beer, it's nice to have a wine bar that has ambiance with live music and open-air window seating for fabulous weather days. If you enjoy wine, this is a must stop when you visit Asheville.

Metro Wines

– This wine shop on Charlotte Street is one of my favorites. The owners are often in and open for conversation, and their sommelier, Andy, is knowledgeable and helpful. Reserve a spot for wine tasting and follow them for news on wine dinners and other events.

Golden Fleece

– This restaurant is located in the Grovewood Village across from the Omni Grove Park Inn. They serve an incredible wood-fired octopus and is an excellent option for a quiet lunch.

Stoney Knob – Stoney Knob is always a must for me, as this restaurant in Weaverville always provides the comfort of home. The menu is spot on and with options to sit at the bar or a table, it is perfect for single or group travelers. In my opinion, the fish dishes are the best in Asheville, and it is no secret I love their banana cream pie. Great for lunch, dinner, and Sunday brunch.
The Buyer's Agent of Asheville is local real estate firm located in downtown Asheville, N.C., dedicated with laser focus, fierce negotiating skills, and detailed transaction management, so you can rest assured knowing that your real estate needs are our top priority. Get access to all homes in your price range that match your needs and wants.  Search Asheville Homes for Sale The Buyer's Agent of Asheville has been loyally assisting home buyers in the Asheville, North Carolina area for over a decade. Call today 828.210.4663