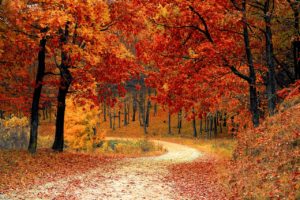 Fall. It is the time of year we all love in our beautiful mountain town of Asheville, North Carolina. Changing leaves, cool breezes, and afternoon sunshine, are all pieces of this season. Yet, there is something about Asheville fall events that grab us a little bit more, so we thought we'd share some upcoming events you may just want to get scheduled on your calendar.
This Weekend
Saturday, October 7, 2017 @ Salvage Station
North Carolina's premier cider celebration benefiting the Western NC Green Building Council. $30/person advance tickets.
Cashiers Valley Leaf Festival
Friday, October 6, 2017 to Sunday, October 8, 2017
Free festival on the Village Green in Cashiers. 10am – 5pm Friday, Saturday and Sunday. Discover local art, listen to live music and see beautiful fall leaves.  
Smoky Mountain Fly Fishing Festival
Saturday, October 7, 2017
Bryson City comes to live with all things fly fishing. Open 9am – 5pm to see demonstrations and new gear. Located in downtown a few blocks for the Delayed Harvest section of the Tuckasegee River.
WNC Garlic Fest
Saturday, October 7, 2017
This free event will take place at 243 Haywood Street in downtown Asheville from 12 pm – 6pm.
Saturday Nights Lights
Saturday, October 7, 14, 21, & 28, 2017
Love horses? Watch some of the best riders in the country at the Tryon International Equestrian Center. Entertainment, food, activities for the kids and carousel rides starting at 6 pm. Arena action starts at 8pm. Free admission.
Asheville Art in the Park
Saturday, October 7, 14 & 21, 2017
Walk Pack Square to view and buy a spectacle of artwork.
Oktoberfest, Asheville
Saturday, October 7, 2017
Celebrate local beer downtown with Asheville's Oktoberfest. Tickets required if you are tasting.
FUTURE EVENTS
Thursday, October 19, 2017 to Sunday, October 22, 2017
This outdoor festival celebrates all cultures with art, music, dance, and more. Located near Black Mountain, get your tickets in advance.
Craft Fair of the Southern Highlands
Friday, October 20, 2017 to Sunday, October 22, 2017
Over 200 craftspeople showcase their fine handcrafted items in downtown Asheville.
Apple Harvest Festival
Saturday, October 21, 2017
Waynesville explodes with all things apple – including cider, fried pies and other delicacies. Live mountain music, dance, craft and demonstration booths along scenic Main Street. 10 AM-5 PM. Free.
Downtown Brevard Halloweenfest
Saturday, October 28, 2017
Brevard celebrates Halloween with a Flight of the Vampire 5K, 10K and Children's Fun Run, along with a costume contest and parade, chili cook-off, pie bake-off, street vendors, a pumpkin-carving contest, haunted house, masquerade ball, Boo-T-Ful Me fashion show, Mountain Music Mash competition, ghost tours and more.
Looking for something low key?
Tour a Butterfly House
Tour Hop'n Blueberry Farm this summer view the learn about the Monarch butterfly and release.
Get above the canopy while the leaves are in peak and the ziplines are still open.
Gray Line of Asheville's Haunted History & Murder Mystery Tour offered Monday, Thursday, Friday, and Saturday through November 12.
For the month of October 2017, LaZoom's Haunted Comedy Tour gets a retro Halloween makeover. Tickets are $23 (must be age 17 or older to ride).
After the final tour on Halloween, the LaZoom Room will be transformed into a real Monster's Ball! There will be a costume contest, drink specials, and a DJ spinning spooky grooves from 8 p.m. to Midnight. Admission to the party is just $5.
The Buyer's Agent of Asheville is local real estate firm located in downtown Asheville, N.C., dedicated with laser focus, fierce negotiating skills, and detailed transaction management, so you can rest assured knowing that your real estate needs are our top priority. 

Get access to all homes in your price range that match your needs and wants.  Search Asheville Homes for Sale The Buyer's Agent of Asheville has been loyally assisting home buyers in the Asheville, North Carolina area for over a decade. Make an appointment to visit our office at 82 Patton Ave, Suite 211, Asheville or call our 24/7 service number: (828) 210-4663.