How Asheville Is Working To Keep The Integrity Of Its Charm.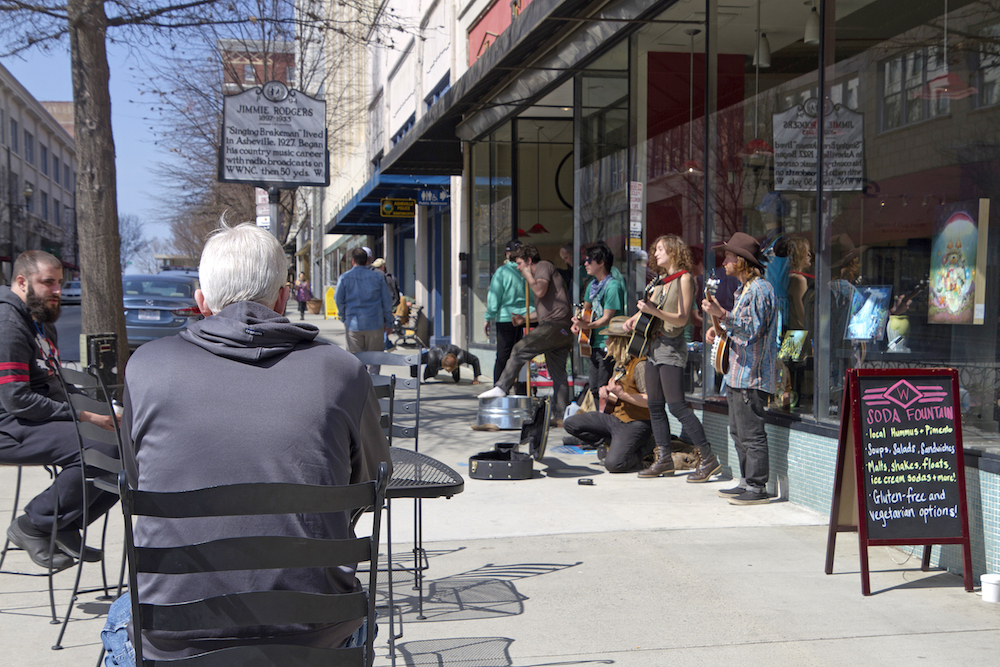 There has been a "Farm-to-Table" trend across the country in regards to restaurants and eating local for a few years now. However, in the small mountain town of Asheville, North Carolina they have been eating, buying, and loving local for over a decade. The city is prospering because of grassroots efforts since the 90's. Once a sleepy little town, this thriving tourist destination, retirement location, and perfect locale for beer, outdoor, and food lovers has drawn a lot of attention. With all the excitement surrounding the city, "buying local" is more vital than ever.
In speaking with REALTOR® Jon Corbin, owner of The Buyer's Agent of Asheville, he says, "Asheville is Asheville because of the pioneering done by locals not large hotel corporations and national retail chains.  There was a time that I can still remember when downtown Asheville was 'boarded up' and you wouldn't go there."  Asheville believes in local to its core, something you may not understand until you have visited or lived there. I was raised in Utah, where every street corner offers fast food chains, and small, independent restaurants are hard to come by. In Asheville there is a farmer's market within minutes of anywhere you live, hundreds of independent restaurants and shops, and unique experiences everywhere you turn.
Pop music and Corporate/Chain anything is not the vibe in this town, and perhaps one of the reasons Asheville is on so many lists for happiest place to live and happiest people. Many communities in the area offer shared, community gardens, while others hang their "Buy Local" sign.  The quirky and different is what attract visitors and new residents daily. As Asheville continues to grow, citizens don't want to see the heart of the city disappear. As big hotel names come in, and others try to get their foot in the door to downtown, there is concern for the death of local in this particular location. Asheville has experienced a lot of change over the past five years, as well as an influx of visitors, with that comes compromise and controversory. "Places such as Barleys, Be Here Now, and shops on Lexington came and created a reason to be in downtown Asheville.  Now, they are under assault by rising rents due to all of the tourism and hotels that are here.  If these local businesses fail, we quickly lose our charm and appeal," said Corbin.
As a local business owner himself, Corbin understands the challenges faced in keeping up with highly capitalized, large, national businesses. The Buyer's Agent of Asheville is a homegrown real estate agency that focuses solely on home buyers. The company does not accept listings, using the analogy- you would not want your lawyer to represent both sides, so why would you have an agency represent both sides of one of the biggest purchases in your life. Unique positioning, something many small and local companies and eateries offer in the city. Local is the true backbone and soul of Asheville. Don't believe it? Look at what has been created out of homes and garages in the craft brewing industry alone here.
The creativity is abundant in Asheville, and people choose to live there because of the magic the city exumes. Cool vibes, everyone is welcome, and there is no shortage of things to do.  So how does Corbin help spread the word to keep "local" a priority? " I buy all my clients each year a "Go Local" card to help support these businesses. It is important to keep the legacy Asheville has built."
Keeping that hometown feel and not over exploiting the area is a concern for locals. Tourism is a major part of the industry, but it is that off-the-cuff fascination with all things local creating the drive to experience the scene. As the bumper stickers say, "Keep Asheville Weird".
The Buyer's Agent of Asheville is local real estate firm located in downtown Asheville, N.C., dedicated with laser focus, fierce negotiating skills, and detailed transaction management, so you can rest assured knowing that your real estate needs are our top priority. Get access to all homes in your price range that match your needs and wants.  Search Asheville Homes for Sale The Buyer's Agent of Asheville has been loyally assisting home buyers in the Asheville, North Carolina area for over a decade. Make an appointment to visit our office at 138 Charlotte Street, Suite 210, Asheville or call our 24/7 service number: (828) 210-4663.