Searching for a home can be stressful, so how do you know how to find an
Asheville REALTOR®
that will take on the responsibility to represent only YOU, and your interests in a business transaction?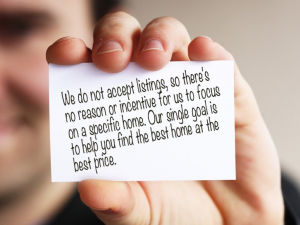 Conflict of Interest 
Many times, we have heard ……………….Oh! but Betty, the seller's agent, is so NICE! I am sure he/she will represent my interests!
How will that be possible? 
The seller, for sure, will expect to receive the highest amount possible and the most advantageous terms for the sale of the property.
The buyer wants to buy at the lowest possible price, and with as many benefits and amenities as possible.
How is one agent, negotiating between buyer and seller, going to be able to obtain all of this for buyer and seller? Smells like conflict of interest to me!
A buyer's agent has a responsibility represent your interests. A true
buyer's agent
will not have any listings. This is important to avoid a potential dual agency (problem!) situation. Everything he/she shows you will be listings handled by other agents and/or companies. An additional advantage for using the buyer's agent is that they look at the ENTIRE market, including For Sale By Owner properties.
Better yet, if you drive by an attractive property with a sign on it, or locate something on the internet, your buyer's agent should be prepared to research it, obtain information about it for you and draft and negotiate an offer on your behalf.
Selecting your Agent:
1. Make a conscious decision to acquire any property ONLY through an agent who is committed to representing only your interests and not those of the seller. Your Buyer's agent should also be a member of the National Assocation of REALTORS® and therefore be member of the Asheville Board of REALTORS®.
2. Once you feel comfortable with the person selected to represent YOU, expect to sign some sort of simple agreement in which terms of the representation are outlined.
Advantages of Working with a Buyer's Representative:
 Working with a Buyer's Agent can save the buyer time by:
1. Helping determine the amount that can be spent and exploring financing options.
2. Previewing properties, and verifying property condition
3. Suggesting important inspections by experts.
4. Verifying property taxes, utilities, verifying value.
5. Structuring an Offer
6. Presenting the offer to the Seller and/or Seller's representative
7. Negotiating favorable contract terms for the Buyer
8. Overseeing preparation of documents for transfer.
A good
Buyer's Agent
 will persevere, have solid negotiating skills,
and be committed to you, the BUYER!