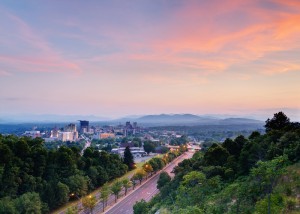 You may be considering purchasing or investing in a home. There is a lot of thought put into this major life decision. Location, condition, and the value of the house or property all play a role in your home purchase. Many get emotionally attached, falling in love with a kitchen, master bathroom, or proximity to schools or shopping.
Taking some of the emotion and strictly looking at an Asheville home as an investment to either rent or live in for several years, can make a difference in what you may choose to consider. These four Asheville area neighborhoods make sense in a buy now, sell later Asheville home purchase strategy.
Oakley –  This South Asheville neighborhood is tucked away from the city, one of the many pockets of the city many may not know exist. Many of the homes are older, and you will need a vehicle to get around, as public transportation does not service Oakley.
Weaverville – This charming town is located 9 miles north of Asheville, NC. The main street of the town offers a few restaurant and bar choices, and is a nice alternative to visiting downtown Asheville, NC.
Haw Creek – Many of the homes in Haw Creek are filled with character, built between 1940 and 1969. The community is filled with single family small to medium sized homes, and would suit investment opportunity.
Mills River – This neighborhood is located within minutes from Pisgah National Forest and perfect for the outdoor enthusiast. Mills River is located in Henderson County with convenient access to Asheville, Hendersonville, and Brevard.
To learn more about these Buy Now, Sell Later Neighborhoods of Asheville, talk with a buyer's agent from The Buyer's Agent of Asheville. The Buyer's Agent can help you find the neighborhood that is right for, and the fact that these agents do not accept listings, means they have your back when it comes to finding the perfect Asheville home and location.
The Buyer's Agent of Asheville is a local Asheville real estate firm dedicated entirely to assisting home buyers find their home. We provide laser focus (see the homes that match your search criteria), fierce negotiating skills (save you money) and detailed transaction management (you don't need to stress). Located at 82 Patton Avenue, Suite 211 in Asheville, North Carolina. Contact the Buyer's Agent at 828-210-4663. Follow @buyersagentavl or Like on Facebook.