Love City Living and Walkability to Food and Fun?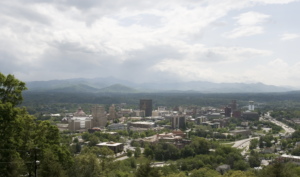 Asheville has received accolades from Condé Nast, Frommers, Travel & Leisure, and National Geographic, to name a few. Making the lists for the best small towns, the happiest people, the best place to retire, a top destination and more. And they are accurate, Asheville is a happening place. With over 9 million visitors a year, the Asheville Convention and Visitor's Bureau has done their job marketing the city. Selling it to bloggers and media, they have supported our local economy. Many visitors arrive and never want to leave, and why Asheville has many transplants as we call them here- people who are not originally form here and want to live here.
Downtown Asheville is hot, and it is growing by leaps and bounds. The South Slope is filling with eateries and breweries, while the middle of downtown continues to see growth with new hotels and more breweries. The food scene is a force to reckon with, and wine bars and pastry bakeries are at your fingertips. Known for the smorgasbord of beer, outdoor sports, culinary arts, and artisan craft, this small mountain community has much to offer in terms of lifestyle.
If you are looking to be part of the action in a walkable city,  downtown Asheville condo living is a scene worth exploring. Enjoy festivals, live music, restaurants, and more downtown without ever having to get in your car to go anywhere. Shopping is also convenient with French Broad Coop and Hopey and Company located on opposite ends of town, and Greenlife is a short drive away.
Revitalized Asheville may be the perfect lifestyle choice, if you are into a city scene.
To view downtown Asheville homes for sale click here
The Buyer's Agent of Asheville

 is local real estate firm located in downtown Asheville, N.C., dedicated with laser focus, fierce negotiating skills, and detailed transaction management, so you can rest assured knowing that your real estate needs are our top priority. 





Get access to all homes in your price range that match your needs and wants.  

Search Asheville Homes for Sale

 The Buyer's Agent of Asheville has been loyally assisting home buyers in the Asheville, North Carolina area for over a decade. Make an appointment to visit our office at 82 Patton Ave, Suite 211, Asheville or call our 24/7 service number: (828) 210-4663.