What Renovations Should You Pay For When Buying Your Asheville Home? Find Out Here…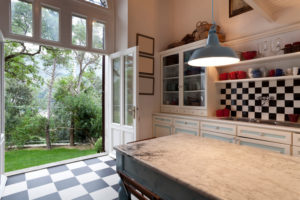 Are you looking for a new Asheville home, and want the biggest bang for your buck? Perhaps you want to move in and don't want to have to spend time and money on repairs or renovations. So how do you know what extras are worth paying more for upfront, and what should not be costly to your contract? We've got the insight on the renovations that make your new Asheville home purchase a good deal.
1- Kitchen Remodel or Upgrade
The average kitchen remodel costs approximately $30,000 according to a recent report by the National Association of REALTORS®. A kitchen is considered one of the largest appeals to to home buyers like yourself, and is the most likely to add to the resale value. When you are looking at a home that has had a kitchen remodel it is important to know when the remodel was done, and exactly everything that was revitalized. For example, are the cabinets new, were they only painted, or refaced? This makes a difference. The average return on investment for the homeowner is 2/3rds of the original cost of the remodel. If a home owner paid $30,000 for a kitchen remodel, then they should recoupe about $20,000 in the sale .
2- A New Roof –
When it comes to structural improvements to a home, a roof is the top of the list for both resale and purchase value. According to the same NAR report, a new roof is cost about $7,600 on average, however home sellers may recover as much as $8,000 during a sale. Questions to ask when purchasing a home-
When was the roof replaced?
What is the warranty on the roof?
When buying a new Asheville home, it can be comforting to know your home should be leak free if a new roof was previously finished. Ask your Asheville real estate agent for his/her knowledge about the roof or structural condition.
TIP: A home inspection is always recommended to understand the structural and roof components of the home you are looking to buy.
3- Bathroom Renovation –
A bathroom renovation can be very personal, and if done correctly is something to consider with your offer on a new home. A bathroom should be upgraded for increased functionality and livability, replacing old worn-out surfaces, finishes, and materials. If you are looking to move into a home without having to deal with a renovation, then paying a little more for a recent bathroom model can pay off big time. However a home inspection should be completed to be sure things are working properly. Ask questions about the bathroom renovation about what was done and get the name of the contractor(s) who completed the work. In addition ask about any warranties that still may be available to you as the new home owner.
The best way to know if you are overpaying for renovations or upgrades, ask you Asheville real estate agent. They will be able to talk to you without the emotion you feel when buying a home. Let your REALTOR® shoot straight with you. Want an unbiased opinion? Work with an Asheville Real Estate agent that only represents, you, the homebuyer. Find your agent now.
The Buyer's Agent of Asheville is local real estate firm located in downtown Asheville, N.C., dedicated with laser focus, fierce negotiating skills, and detailed transaction management, so you can rest assured knowing that your real estate needs are our top priority. Get access to all homes in your price range that match your needs and wants. 

Search Asheville Homes for Sale The Buyer's Agent of Asheville has been loyally assisting home buyers in the Asheville, North Carolina area for over a decade. Make an appointment to visit our office at 82 Patton Ave, Suite 211, Asheville or call our 24/7 service number: (828) 210-4663.