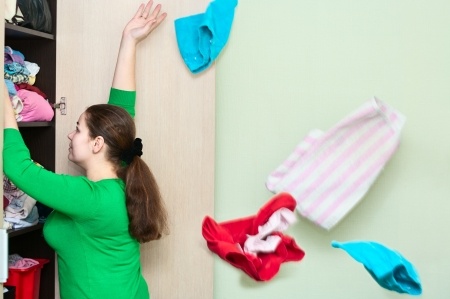 BREATHE LIFE INTO YOUR HOME
Winter is on its way out, so if your home is dominated by
Soft and neutral colors, give it a jump-start into spring with some accents. Brighten up your
home by adding a statement item like a mirror, coffee table, or couch in a bold, lively
color. A new shower Curtain, chic lamp shades, or bright, patterned throw pillows are other
easy ways to liven things up.
OUT WITH THE OLD, ORGANIZE THE NEW
Household clutter is something that everyone could use less of, but it's also one of the
hardest things to commit to clearing out. Evaluate your space realistically and determine
how much you need to get rid of. Then go through and make decisions about what specifically
has to go. If you received duplicates of anything as a holiday gift, donate the older of the two items. Finally, by
predetermining the amount that needs to go, you'll be more
likely to end up with what really needs to stay.
GET IT TOGETHER
Now that those holiday lights have all been taken down (they are down, right?), this is a
great time to also organize electronic Cables. Toilet paper rolls stashed in a decorative box
create an efficient way to organize phone chargers, USB cables, or any other cord that may
be lying around. Speaking of things lying around, keep your guests' coats off your furniture
by creating a coat rack out of eclectic door or cabinet knobs and a pallet plank. Easy and
remarkably unique, you'll be getting use out of this gem year-round.
A LITTLE TOUCH-UP GOES A LONG WAY
It's common for walls and doorways in high-traffic rooms of the house to become soul-fed
and look dirty, so give them a fresh coat of paint. While you're at it, your doorways and
window sills could use a little love, too. If you're really feeling adventurous, add a colorful
accent wall to one of the rooms in your house.
Written by: Cassandra Sprys