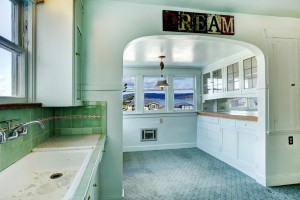 Do you feel handy? If yes, perhaps a fixer-upper is exactly what you need to look into when buying your next Asheville home. A little sweat equity might be a great exchange for saving a little money.
With popularity in the fixer-upper category, supply and demand is limited. The real estate market in Asheville is hot, so finding the a work in progress home may be tough. Ask your Buyer's Agent to look for Asheville home listings with terms like "fixer", "as-is", and "TLC" when searching for properties for you to see.
The potential price break may or may not be worth it to you. You will pay full price in Asheville for a home in mint condition, however there is room for negotiations with a home that needs some tender loving care. The question to ask yourself, are you ok to put some physical work into your home, or do you want to be move-in ready?
Ask The Buyer's Agent of Asheville about fixer-uppers on the market now. Consider location, price point, property lines, and the amount of work needed in the home. We recommend always getting a home inspection to discover or uncover what exactly is needed to be done in the home. You may think only a small amount of work needs to be done, and the reality it could be more than anticipated.
Speak with a Buyer's Agent today to discuss your Asheville Home purchase or fixer-upper search.
The Buyer's Agent of Asheville is a local Asheville real estate firm dedicated entirely to assisting home buyers find their home. We provide laser focus (see the homes that match your search criteria), fierce negotiating skills (save you money) and detailed transaction management (you don't need to stress). Located at 82 Patton Avenue, Suite 211 in Asheville, North Carolina. Contact the Buyer's Agent at 828-210-4663. Follow @buyersagentavl or Like on Facebook.