South Asheville is a popular location to live. With diverse neighborhoods and minimal tourist traps, this area has a lot to offer locals. Encompassing quite a bit of the city, many would agree this area can be referred to all the space in between Biltmore Forest and Biltmore Park. With so much to offer, let's dive into 12 favorite South Asheville restaurants.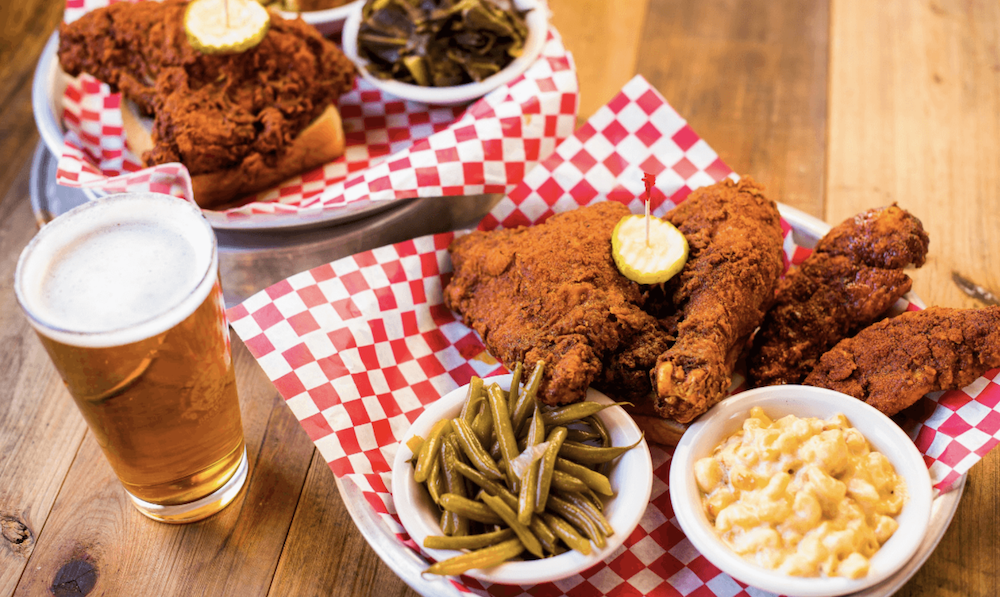 1- Tupelo Honey
1829 Hendersonville Road
An Asheville original now turned nationwide phenomenon. The South Asheville location is located minutes from Biltmore house and away from its busy sister downtown location.  Offering Southern comfort menu favorites people have fallen in love with from one of the first local restaurants to make headlines.
2- Juicy Lucy's
620 Hendersonville Rd
If you are in the mood for a good burger, family-owned and operated Juicy Lucy's has your back- even with extra cheese in the middle if you like. There are other menu items to choose from. This eatery also offers a full bar and is open for lunch and dinner.
Biltmore Village
Made famous by President Obama, this restuarant is located in a Victorian home in historic Biltmore Village and serves Southern dishes with an American, urban flare. It is upscale and reservations are encouraged, as it is one of the hot spots of South Asheville.
75 Long Shoals Rd
Offering comforting Mediterranean style cuisine, this eatery is the perfect neighborhood go to. Wine selection is nice, and the menu offers something for everyone.
1800 Hendersonville Rd
This cafe, coffee shop is perfect for meeting a friend, working on your laptop, or indulging in breakfast or lunch. Closes at 7pm.
1831 Hendersonville Rd, #100
Also a great place to cure a burger craving! The burgers are prepared with grass-fed beef, the milkshakes are delish, and they serve beer and wine.
3749 Sweeten Creek Rd
If you love chicken, you will love Rocky's! The South Asheville location is spacious, and the coca-cola cake is a secret indulgence.
Biltmore Park  
Located in Biltmore Park, this is a nice dining option if you are looking for a little more upscale feeling. Nice wine selection and accessible to parking.
3578 Sweeten Creek Rd
This is one of the Asheville BBQ originals and also frequented by President Obama. The menu is filled with comfort Southern selections that will melt in your mouth.
10- Thirsty Monk
Biltmore Park  
Enjoy local beer and decent pub grub at this favorite Asheville locale. Thirsty Monk will quench your thirst and your appetite. Located in Biltmore Park.
11- Travinia
Biltmore Park
Upscale Italian dining and bar in Biltmore Park. Conveniently located next to the movie theater and across the street from the Hilton.
12- Roux
Hilton Biltmore Park
Located inside the Hilton at Biltmore Park, Roux offers comfort food selections with a Southern flare inspired from the Chef's grandmothers kitchen. Also serves Sunday brunch buffet.
The Buyer's Agent of Asheville is local real estate firm located in downtown Asheville, N.C., dedicated with laser focus, fierce negotiating skills, and detailed transaction management, so you can rest assured knowing that your real estate needs are our top priority. Get access to all homes in your price range that match your needs and wants.  Search Asheville Homes for Sale The Buyer's Agent of Asheville has been loyally assisting home buyers in the Asheville, North Carolina area for over a decade. Make an appointment to visit our office at 138 Charlotte Street, Suite 210, Asheville or call our 24/7 service number: (828) 210-4663.