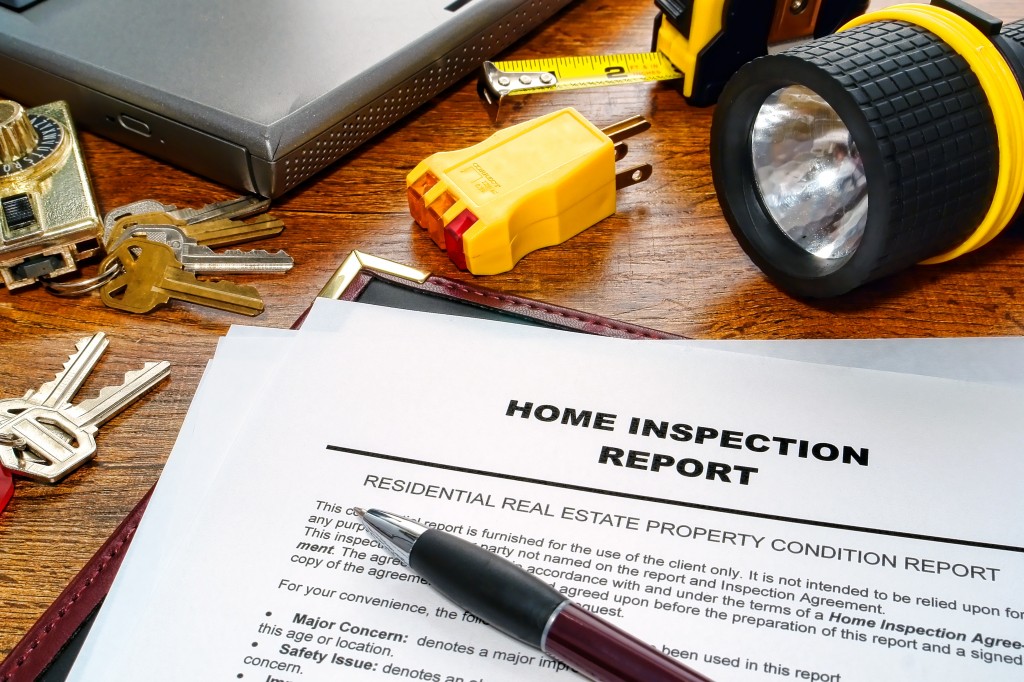 Before purchasing a home, potential buyers often turn to a state-licensed home inspector to examine the property for any structural and system problems that might cause headaches later.
An inspection typically takes several hours and can turn up troubles that a prospective buyer might never see just walking through.
 But home inspection experts say buyers can get a jump on the inspection by taking a closer look beyond all the pretty staging.
"Try and do a little bit of common sense analysis before you go to buy it," said William J. Stanley Jr., owner of the Stanco Inc. home inspection company in Cheshire. "You can do some homework on your own."
Stanley said he's been on inspections with buyers — often first-time buyers on a shoestring budget — that have uncovered problems with aging roofs or furnaces that could cost big bucks in the near future. The buyers, he said, weren't prepared for that and wouldn't easily be able to afford the repairs.
"You can screen it a bit before you spend money on the home inspection," Stanley, a member of the state's home inspection licensing board, said.
Stanley and other experts say it worth examining these items:
The Roof
Look at the roof of the home you are considering purchasing, but don't stop there, Stanley recommends.
"You can compare it to the ones on either side," Stanley said. "If it looks a lot worse, it's a red flag."
Shingles should be sitting flat, evenly on the roof. The shingles shouldn't be buckling or curling at the corners. Chunks shouldn't be missing from the shingles. Of less concern are clumps of moss and lichen or streaks of black algae; although if heavily established can signal a aging roof, Stanley said.
Asphalt roofs generally last 20 to 25 years, although some newer shingles are designed to last longer, Stanley said. Replacing a roof can easily cost thousands of dollars, especially if multiple layers need to first be removed. he said.
The Yard
Does the yard slope to the house or away from it?
"You look at the slope of the land," Scott Monforte, president of the Connecticut Association of Home Inspectors, said. "Does it go down a hill, or is the grading pitched toward the house? A lot of wet basements are due to grading."
Ideally, the yard should slope away from the house, Monforte said
Buyers might be wary of a house built down in a gully, said Monforte, owner of SJM Inspection Service in Milford. But that doesn't necessarily mean the buyer will have water in the basement, he said.
"The builder may have installed footing drains, catchbasins," Monforte said,. to get the water away from the house.
Water problems created by poorly graded yards can be compounded by gutter systems that don't carry water away from the home, but just deposit it by the foundation, Monforte said.
The Septic System
If you are considering purchasing an older home with a septic system, it is worth a trip to the local health department to research the age of the system and drainage conditions on the street or surrounding neighborhood, Stanley advises. Such a check could give clues to any potential problems that may be brewing, he said.
"Your antenna should go up if it's an older house," Stanley said.
Tighter environmental regulations and modern septic designs have pushed up the replacement costs. Those costs can now run from $5,000 to $25,000, especially if new leeching fields need to be constructed, Stanley said.
Not all home inspectors look at septic systems, Stanley said, so a separate inspection may be necessary.
"If you don't do anything else," Stanley said, "get the septic inspected."
The Foundation
Home inspectors spend the bulk of their time in the basement because that is the heart of the systems that heat, light and move water for the home.
Cracks aren't necessarily a problem unless they are allowing water to run in the house. Typically, vertical cracks aren't a major concern because they are usually caused by shrinking after a foundation is poured and concrete dries, Stanley said.
The bigger worry are horizontal cracks, but they are more rare and usually are found in block, not poured foundations. Block foundations are typically constructed out of cinder blocks.
"They can be a real problem because the foundation may have moved, undermining the integrity of the wall and the house," Stanley said.
When examining foundations, look for evidence of water stains, he said.
Electric Systems
Ed Ingalls, owner of Newington Electric, estimates that 80 percent of homes in Connecticut have at least some outdated wiring, which he describes as 20 or more years older.
Ingalls said it is key to look at the size of the service. Older 60-amp services are no longer adequate for the modern appliances, and he recommends looking for at least a 100-amp service. A house with a hot tub and central air conditioning may need at least a 200-amp service, he said.
System upgrades may be required by lenders as a condition of a purchase, Ingalls said.
The cost of an upgrade to 100 amps can run about $1,500, while moving up to 200 amps can cost $1,800, Ingalls said.
Other things to look out for: outdated fuse panels; rusty circuit breaker boxes; two-prong wall outlets rather than ones that are grounded with three prongs; any sound of buzzing, sizzling or zapping when electricity is in use; and flickering lights.
The Furnace
You can tell a lot about a furnace and boiler by how it looks, Stanley said.
"Just look at it," Stanley said. "Does it look like it has been maintained? Are there leaks, rust, corrosion, other signs of a lack of maintenance?"
Age alone may not be the best indicator, Stanley said.
"A steel boiler that is 20 years old is probably near the end of its life, but a cast-iron boiler that is 30 years old may be just fine," Stanley said.
Stanley said oil-fired furnaces and boilers should be maintained every year. It is not unusual for home owners to ignore routine maintenance, he said.
"Some would rather spend money on the granite countertop than on the furnace," Stanley said.
Barry LePatner, co-author of "Structural and Foundation Failures" and a New York City construction attorney, said it is also wise to seek evaluations from a mechanical engineer if an older home is being considered for a purchase. Other experts such as chimney repair companies can drop cameras down the flue to pick up on any deterioration, he said.
"For 99.9 percent of homewoners, this will be the largest purchase of their entire lives," LePatner said. "If they don't understand the need to do a high level of due diligence, they are either disrespectful of price or naive and will pay the price later."
Source: The Courant