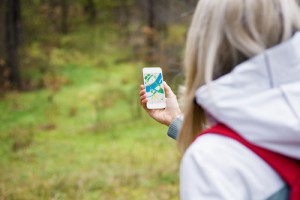 Call it a fad or a new reason to get outdoors, but geocaching is taking Asheville and the Western North Carolina mountains by storm. Geocaching is a real-world, outdoor treasure hunting game that families, friends, and kids are raving about.
Geocaching involves participants navigating to a specific set of GPS coordinates and then attempting to find the goecache (container) hidden at that location. The game is fun, and it is a great Asheville summer activity. By getting outdoors and mapping out locations and discovering treasures, you will discover nature and get some physical exercice.
The game is played via geocaching.com. Sign in or sign up to download the app and search your postal code in the Hide and Seek a Cache page to discover GPS coordinates in the area you want to discover. Once you discover the hidden treasure, sign in and log your findings. The cool part, you can take the treasure, however you must replace it with something of equal or greater value.
Geocaching is becoming popular all over the globe! Here are some of our favorite Geocaching locations in and around Asheville:
#1 – God Kissed The Earth and Called It Asheville -http://www.geocaching.com/geocache/GC2A30_god-kissed-the-earth-and-called-it-asheville
#2- The Asheville Urban Trail – http://www.geocaching.com/geocache/GCGNDA_the-asheville-urban-trail
#3- Beaver Lake One-Step –http://www.geocaching.com/geocache/GC4C9JX_beaver-lake-one-step
There are many geocaching stops. Find them at geocaching.com, or create your own treasure hunt for others to follow. Get outdoors this summer and soak up the beauty of Asheville, its history, and its mountains.
The Buyer's Agent of Asheville is dedicated to help clients find homes they can adore and afford. With its team of 10 experienced real estate brokers, The Buyer's Agent of Asheville has been loyally assisting home buyers in the Asheville, North Carolina area. We're focused to search for ideal homes without distractions, shady deals, and conflicts of interest. Please make an appointment to visit our offices at 82 Patton Ave, Suite 211, Asheville (map) by calling our 24/7 service number: (828) 210-4663.