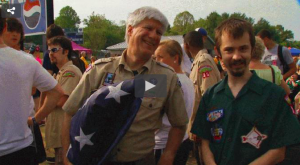 Local news station, WLOS, featured one of The Buyer's Agent of Asheville team members in their person of the week.
Part of the oath that Boy Scouts take is to do their best helping other people at all times, and Randall did just that with thinking outside of the box when it came to leading the young men of troop 85.
Guiding and encouraging the young me who face challenges and giving them an opportunity to be a part of the Boy Scout Organization and follow their dreams, Randall has dedicated time to being involved.
Here at The Buyer's Agent we could not be more proud to say we know him.
Watch the video here – http://www.wlos.com//community/features/potw/stories/randall-barnett-234.shtml#.VW8XplxVikp
The Buyer's Agent of Asheville is a local Asheville real estate firm dedicated entirely to assisting home buyers find their home. We provide laser focus (see the homes that match your search criteria), fierce negotiating skills (save you money) and detailed transaction management (you don't need to stress). Located at 82 Patton Avenue, Suite 211 in Asheville, North Carolina. Contact the Buyer's Agent at 828-210-4663. Follow @buyersagentavl or Like on Facebook.