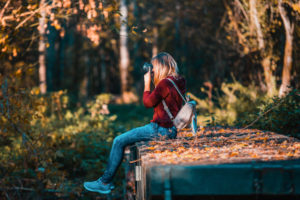 Asheville is the perfect place to be outdoors and be active. The surrounding mountains offer great escapes from the everyday, however some Asheville parks are the perfect place to clear your head during a lunch break away from the office, an evening stroll or run, or a weekend picnic.  With smart phones increasing the constant noise around us, we wanted to share some of our top favorite afternoon parks to escape the daily grind.
Beaver Lake: Take a stroll through the bird sanctuary or if you are a runner it's a great place to run around this small lake located in North Asheville. It's picturesque and quaint, and is the perfect place to get a few minutes of fresh air.
Carrier Park: Known as on of Asheville's top park locations, this park offers volleyball, a playground, roller-hockey rink, basketball court, track, a paved trail, a multi-use field, great for baseball or soccer, an . Connected by a 2.8 mile bicycle and pedestrian trail known as the French Broad River Greenway, Carrier Park is connected to Hominy Creek Park, a popular spot for Asheville tubers to get in the river.
Richmond Hill Park: This large wooded park is great for trail running, mountain biking, and paying disc golf. Dogs are often seen on the trails with their owners, and it is a beautiful place to take in serenity within Asheville city limits.
Azalea Park: Well known in the soccer community, Azalea Park is located along Swannanoa River and has soccer fields, picnic pavilions, and a running/walking trail. It is home to competitive soccer HFC, as well as an adult league. To reserve a field, go to the Asheville Parks web site.
Montford Park: With tennis courts, a playground, and green space, this park has much to offer. Located in the Asheville neighborhood of Montford, it has convenient access to/from the highway. 'Shakespeare in the Park' by the Montford Park Players during the spring, summer, and fall adds a magical charm to this park.
The Buyer's Agent of Asheville is local real estate firm located in downtown Asheville, N.C., dedicated with laser focus, fierce negotiating skills, and detailed transaction management, so you can rest assured knowing that your real estate needs are our top priority. Get access to all homes in your price range that match your needs and wants. 

Search Asheville Homes for Sale The Buyer's Agent of Asheville has been loyally assisting home buyers in the Asheville, North Carolina area for over a decade. Make an appointment to visit our office at 82 Patton Ave, Suite 211, Asheville or call our 24/7 service number: (828) 210-4663.