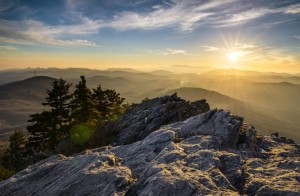 The mountains of Western North Carolina are lush and green, offering some of the most inviting scenery to live and play in. Asheville and it's surrounding mountains have become a global destination, and a sought after place to raise a family, build a business, or retire. The character of the town, the outdoor playground, and the established food scene, draw people from all over to enjoy the lifestyle Asheville has to offer.
There is no other place we at The Buyer's Agent of Asheville would choose to live than right here in the mountains. One concern for home buyers in WNC is the amount of Radon found here. Western North Carolina has been known to have larger amounts of radon than normal, and we advise radon testing when there is cause for concern.
A radon mitigation system can be installed in homes and/or offices to reduce the amount of radon, if it is an issue. The EPA suggests that a reading over 4.0 should require attention by the home buyer or home seller. North Carolina is a buyer beware state, and radon testing is not required by law. Appraisers or home inspectors may recommend testing, however bank loans do not require a radon test to close a loan in the state of North Carolina.
If there is a concern for radon in your Asheville home or the home you are looking to purchase, there is a standard test that most home inspectors can offer. It takes approximately 24 hours to measure the air in a closed environment (meaning no windows or doors can be opened in the testing area during the reading). The test measures the air hourly and provides an average 24 hour reading of radon found in the air. In a perfect world, this number would read 4.0 or lower. Often this is not the case, and a radon mitigation system is recommended. The mitigation system can run anywhere from $1100 – $1500, and good to negotiate in the home purchase contract.
Radon is inheritantly found in Western North Carolina and is also known as the second leading cause of lung cancer. If Radon is found in a home, it has to be disclosed on the MLS (Multiple Listing Service). Our goal at the Buyer's Agent of Asheville is to provide you with the proper information about radon concerns and/or testing. If radon is found, the problem can usually be fixed. There are risks of hurricanes or storms when living by the sea, and there is no cure for that. Live the lifestyle of the mountains, take a deep breathe, and know that we've got your back on issues like radon when it comes to the purchase of a new home.
The Buyer's Agent of Asheville is a local Asheville real estate firm dedicated entirely to assisting home buyers find their home. We provide laser focus (see the homes that match your search criteria), fierce negotiating skills (save you money) and detailed transaction management (you don't need to stress). Located at 82 Patton Avenue, Suite 211 in Asheville, North Carolina. Contact the Buyer's Agent at 828-210-4663. Follow @buyersagentavl or Like on Facebook.