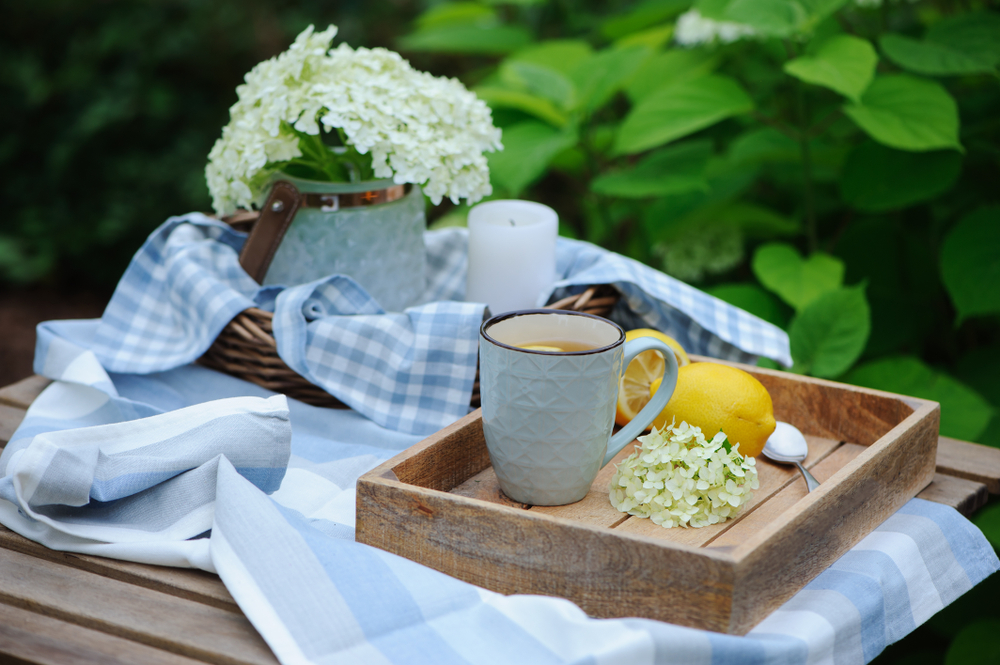 Whether you love to sit on the back porch with your family and friends, grill up summer goodness, or take in fresh air and the view, your backyard should feel like heaven. It is the gathering place of the season, and what could be better than falling in love with your space over and over again? These little touches can go along way to make your backyard feel more like a staycation, and less like daunting gardening or maintenance work.
Add a Swing –
Your style could be hammocks. Perhaps you love papasan chairs. Or you could even create your own look and feel by building something personalized. Adding a fun place to swing, think, read, relax, or sip a cocktail, could transform the way you feel about an area in your backyard.
Outdoor Living –
Why not create a space for an outdoor sofa and table? Add some potted plants and an outdoor diffuser and you have created an intimate space for conversation or complete relaxation.
Add a Fire Pit or Fireplace –
Everyone loves sitting around a fire. Roast marshmallows over a natural fire, make wood-fired pizza, or enjoy the dance of the flames. Whatever your pleasure, there are many DIY ideas for anything fire pit or fireplace related. You can even purchase a fancy looking propane powered one, if you are not up for the keeping up on firewood.
Potted Plants –
Add some color and elegance with potted plants. Invest in a few nice pots to place by the front door, garage, on the walkway, front porch, back porch, or in different areas of your yard. Flowers always bring a smile.
Flagstone Pavers –
Perhaps you have all grass, or have an area that needs some work. Why not create a pathway or semi-patio with stone pavers? Add some moss in between to give it that mystical feel and you have yourself a transformation. You could also incorporate flower pots or even create a small bistro style dining area.
Add Grape Vines –
Grape vines are beautiful. They do require some maintenance, however when they wrap around an arbor, pergola, fence line, etc., they can create that magic touch. Plus they are a great evening snack! Tip: freeze your grapes for a healthy, frozen treat!
Outdoor Lighting –
Invest in some outdoor lighting. Whether you hire an electrician or find DIY options, having ambient light in the backyard can make all the difference. String lights are also popular, and come in all shapes and sizes.
Add Hand-Crafted Raised Beds –
It is farm-to-table relevant, and you will be able to enjoy all your own delicious food. Five-star restaurants and boutique hotels all over the world are adding raised beds to serve their customers, why not do this too? Look at this idea from Chablé Resort in Mexico.
Outdoor dining –
Add a beautiful wood dining table. Spend a little more than you would for a standard table from the local home goods store and create a dining space that is warm and inviting. Add some outdoor candles, an outdoor speaker, and even perhaps some flowers. You will be happy you did!
The Buyer's Agent of Asheville is local real estate firm located in downtown Asheville, N.C., dedicated with laser focus, fierce negotiating skills, and detailed transaction management, so you can rest assured knowing that your real estate needs are our top priority. Get access to all homes in your price range that match your needs and wants.  Search Asheville Homes for Sale

The Buyer's Agent of Asheville has been loyally assisting home buyers in the Asheville, North Carolina area for over a decade. Make an appointment to visit our office at 138 Charlotte Street, Suite 210, Asheville or call our 24/7 service number: (828) 210-4663.