Asheville's craft brew scene is strong. When locals have visitors come to town, more often than not the first place out is to enjoy a craft beer. With over 9 million tourists visiting this mountain city annually, beer artists have an extradordinary opportunity to continue to expand operations and flavors. With 11 micro-breweries located downtown, all within walking distance, and more than enough taps flowing with hops, the downtown Asheville beer scene is on point. 
Let's explore: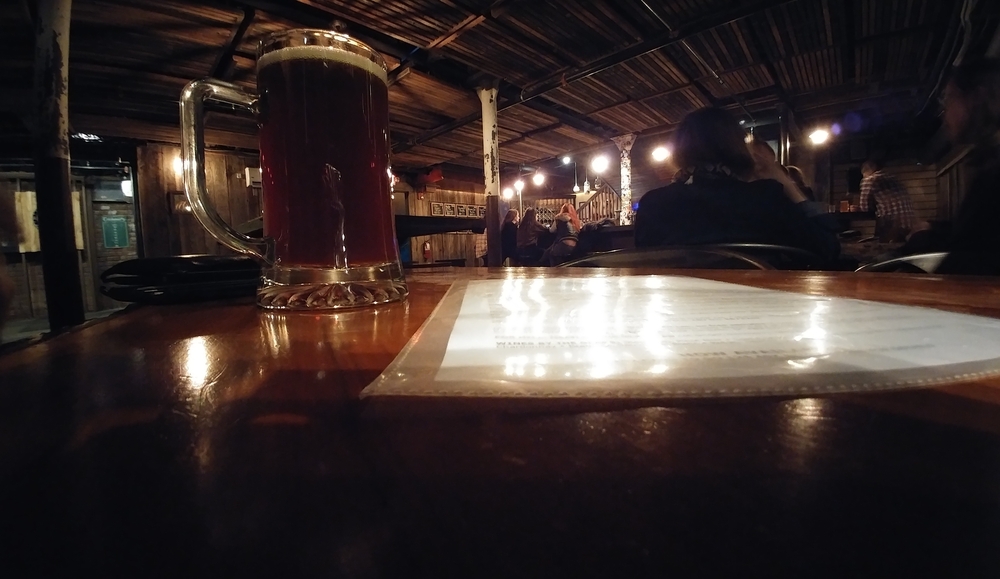 Asheville Brewing Company – As the third oldest brewery in Asheville, it's been a local favorite for years. Known not only for its brew, the pizza is pretty epic too. Offering both indoor and outdoor seating, and of course a welcome mat for well behaved dogs.
77 Coxe Avenue
Asheville, NC 28801
Bhramari Brewing Co. – This brewery is an experience. Not only brewing their own, they serve a small selection of other locals, as well as wine. Located behind The Orange Peel, with something for everyone, it makes it an easy choice for a pre-event adult beverage.
101 South Lexington Avenue
Asheville, NC 28801
Burial Beer Co. – Located on the south slope, the brewery has created a magical space. Inside feels slightly dark and damp, complimenting the beer names and artwork. Take a few steps and you are outside enjoying a sunny Asheville afternoon. It's the kind of place you don't forget, because of the story it tells.
40 Collier Avenue
Asheville, NC 28801
Catawba Brewing Company – Located in a large open space close to Buxton Hall Barbecue in the South Slope, Catawba's third location is home to their barrel aging beers. Their production facility is located in downtown Morganton, open since 1994. Home to 9 flagship beers, this one of Asheville's craft staples.
32 Banks Avenue
Asheville, NC 28801
Green Man Brewery – Brewing since 1997, and a familiar stop on the LaZoom Comedy Tour, this brewery has certainly made a name for itself among locals and visitors alike. Having newly opened an indoor/outdoor top floor tap room that overlooks the Blue Ridge Mountains and prouction, it is a must visit.
27 Buxton Avenue
Asheville, NC 28801
Habitat Brewing Company – One of the city's newest small batch breweries. Located in the 5 Points area on Broadway this brewery is housed in a cool, old building. Brewing small batches of English style beers, the brewery is focused on providing a community commons for small, local events and gatherings.
174 Broadway Street
Asheville, NC 28801
Hi-Wire Brewing – It is not uncommon to see a large group of people gathered around a table with their eyes glued on a Premier League Soccer game, with a brew in hand of course. The space is open, light-hearted and typically bustling on the weekends.
197 Hilliard Avenue
Asheville, NC 28801
Lexington Avenue Brewery – The Lab as locals refer to it is always bustling. A great spot to enjoy a sit down dinner and local crafts. Most breweries have food trucks, The Lab offers a music venue, full menu and great tasting flights.
39 N. Lexington Avenue
Asheville, NC 28801
One World Brewing – This nano-brewery is located in the basement beneath farm burger, providing sort of an old-world dirt floor pub vibe. It is cool to visit, and they do serve wine and champagne in addition to beer selections.
10 Patton Avenue
Asheville, NC 28801
Twin Leaf Brewery – A South Slope addition that locals love because of its down to earth vibe. Pets and kids feel welcome, and the space is fun with games, beer, and good people all around.
144 Coxe Avenue
Asheville, NC 28801
Wicked Weed Brewing – This brewpub has made headlines all across America. Some locals love it, some hate it, as it is the elephant in the room of now owned by Anheuser-Busch. But the numbers and visitors don't lie – it is a great spot for lunch or to enjoy a beer or two.
91 Biltmore Avenue
Asheville, NC 28801
The Buyer's Agent of Asheville

 is local real estate firm located in downtown Asheville, N.C., dedicated with laser focus, fierce negotiating skills, and detailed transaction management, so you can rest assured knowing that your real estate needs are our top priority. Get access to all homes in your price range that match your needs and wants. 





Search Asheville Homes for Sale

 The Buyer's Agent of Asheville has been loyally assisting home buyers in the Asheville, North Carolina area for over a decade. Make an appointment to visit our office at 82 Patton Ave, Suite 211, Asheville or call our 24/7 service number: (828) 210-4663.