Spring has sprung and Asheville Easter celebrations are here! For many,  holiday traditions include church services, spring dresses, easter egg hunts and more. In Asheville, we find a reason to celebrate  almost any day, however enjoy these annual festivities themed around bunnies, eggs, and services.
Experience the 63rd annual Easter Sunrise Service at the top of Chimney Rock Park. This event has become legendary in Western North Carolina, attracting over 1,000 early risers from neighboring cities and states. The service starts at 7am on Sunday, April 1, 2018. Gates open at 5am. No admission after 6 am. This year's service will begin at 7am and end at 7:30am. Guests are invited to stay and enjoy the Park all day. Admission to the Sunrise Service is free.
The 9th annual Easter on the Green in Pack Square will be held Saturday, March 31 from 2-5pm. Presented by Ingles Markets, the event is free and open to the public. Children will also have an opportunity to meet the Easter Bunny. IMA Photo & Images will be there all day to take photos of kids with the Easter Bunny which parents can download for free or purchase a print.
PARENTS: You must check in the children in your party to get the appropriate wristband prior to the egg hunts.
Egg Hunt Schedule:
2:15pm – ages 4-6

2:30pm – ages 7-8

2:45pm – ages 3 and under

3pm – ages 9-12

3:15pm – ages 4-6

3:30pm – ages 7-8

3:45pm – ages 3 and under

4pm – ages 9-12

4:15pm – ages 4-6

4:30pm – ages 7-8
Photos with the Easter Bunny
2:20-3pm

3:20-4pm

4:20-5pm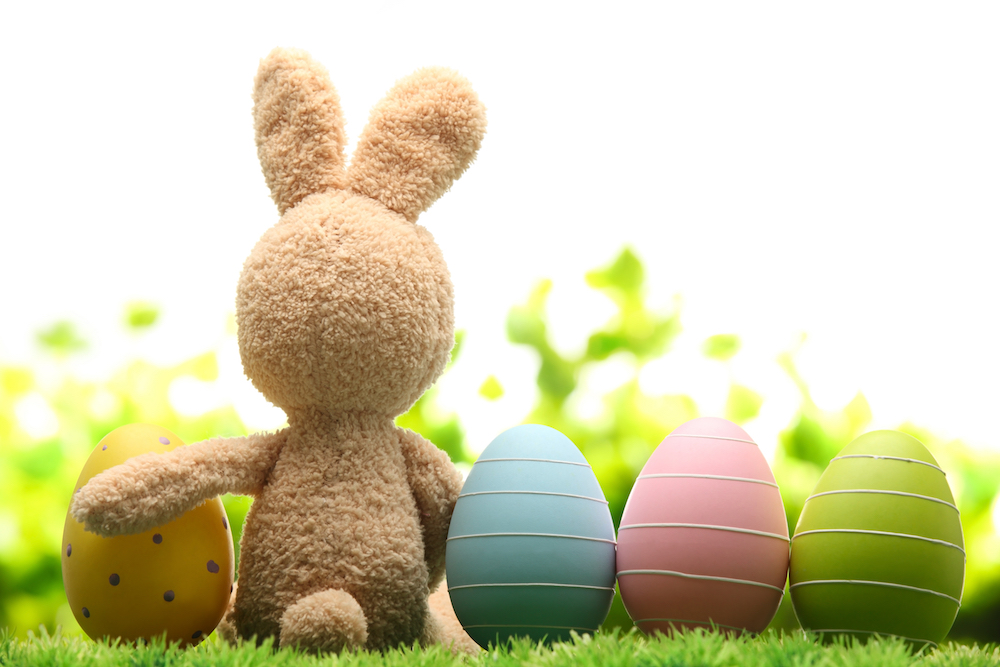 Asheville Treetops Adventure Park will be hosting an Easter Egg Hunt in the trees on Sunday, April 1 from 9am – 4pm at 85 Expo Drive, Asheville, 28806.  Children ages 4 and over, can KidZip or climb the Treetops Park while collecting eggs to trade them in for sweet treats. Make a reservation today at advavl.comor 877.327.5539.
Sunday, April 1 from 11 am – 3 pm, Ruth's Chris will be serving brunch, featuring Brioche French Toast, Steak Benedict & Barbecued Shrimp & Grits. Our signature items will be available all day and we'll offer some new favorites like Petite Filet with BBQ Crab, Cream of Sweet Corn & Key Lime Pie!
Call 828.398.6200 for reservations & menu details!
Saturday March 31, from 3:30 – 6:30 pm at the K. Johnson Family Farm Stand, located at the corner of Erkwood and Kanuga, Hendersonville, NC, there will be an easter egg hunt with a special area sectioned off for children under the age of 2.
Sunday, April 1 from 9am – 2pm, attend one of the Southeast's largest easter egg hunts for children ages 2-9. There will be additional activities including photos with the Easter Rabbit and Giant Bubbles at the Village Green. Easter Egg Hunt is included with estate admission. Brunch will also be served at Vanderbilt Room at The Inn and Deerpark Restaurant.
Enjoy Easter Brunch on April 1 at Grove Park's Asheville Easter Brunch Buffet at Blue Ridge or dine on the Sunset Terrace with your choice of a traditional menu or indulge on the special Easter prix-fixe feature.
The Buyer's Agent of Asheville is local real estate firm located in downtown Asheville, N.C., dedicated with laser focus, fierce negotiating skills, and detailed transaction management, so you can rest assured knowing that your real estate needs are our top priority. Get access to all homes in your price range that match your needs and wants.  Search Asheville Homes for Sale

The Buyer's Agent of Asheville has been loyally assisting home buyers in the Asheville, North Carolina area for over a decade. Make an appointment to visit our office at 138 Charlotte Street, Suite 210, Asheville or call our 24/7 service number: (828) 210-4663.